Metroid Prime: Hunters
aka: Metroid Prime: Hunters - First Hunt
An episode in the Metroid Prime series which started on the GameCube, this game takes place between Metroid Prime and Metroid Prime 2: Echoes. Interstellar bounty hunter Samus Aran is sent to the distant Alimbic Cluster by the Galactic Federation to investigate a message saying that the source of ultimate power lies in this desolate part of the galaxy, once home to an advanced culture.
Samus is not alone, however. Other races have heard this mysterious message, too. Six other bounty hunters, each with unique characteristics, will do everything to get their hands on the Alimbic relics for their own reasons.
The single-player mode is more focused on shooting than other Metroid games but also has puzzles in classic Metroid fashion. Unlike previous games, Samus has all her moves from the start, but she still has to look for weapons. The player may also run into other bounty hunters in this mode.
The multiplayer mode is similar to Unreal Tournament or Quake games. Players can choose from any hunter that was defeated in single-player mode. There are seven modes in total including: Nodes, Survival, Bounty, Prime Hunter, Battle, Capture, and Defender. Each mode has its own unique rules. There are a vast number of arenas that can be played over local wireless or Nintendo Wi-Fi Connection. When using friend codes, voice chat before and after matches is enabled.
Spellings
メトロイドプライムハンターズ - Japanese spelling
메트로이드 프라임 헌터즈 - Korean spelling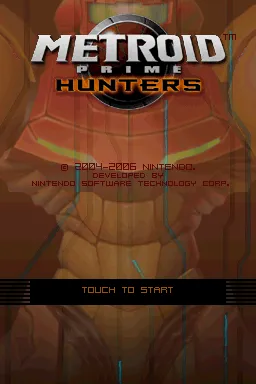 Credits (Nintendo DS version)
72 People (56 developers, 16 thanks) · View all
Game Director
Project Coordination
Single-Player Game Design
Wi-Fi Game Design
Multiplayer Game Design
Story
Technical Programming Lead
Programming Lead
AI Programming
Enemy Programming
Audio Programming
Network / Multiplayer Programming
Additional Programming
Tools Department Lead
World Editor Tool
Menu Tool
Art Director
Special Effects
Environment Lead
Environment Art
[ full credits ]
Trivia
Demo version
A demo version, called First Hunt, was released as a pack-in (now discontinued) with the DS launch on November 21, 2004 in North America. Australia and Europe also received the demo on their respective release dates. This demo was not released in Japan.
Metroid
Oddly enough, this is the one Metroid title that doesn't have any of the Metroid species in it.
Awards
GameSpy

2006 – #10 Handheld Game of the Year
2006 – #5 Nintendo DS Game of the Year
2006 – Nintendo DS Shooter of the Year
Contribute
Know about this game? Add your expertise to help preserve this entry in video game history!