EverQuest II: Desert of Flames
aka: Everquest 2: Wüste der Flammen
EverQuest II: Desert of Flames is the first expansion to the MMORPG EverQuest II. It takes place in an Arabian Nights-themed area that EverQuest players may recognize as the Desert of Ro. This expansion features content primarily targeted toward higher level players (level 45+).
The main features of this expansion are:* Achieve level 60 as an adventurer or artisan, and level 40 as a guild.
The city of Maj'Dul, which emphasizes the importance of faction and your role in them. The dangers and benefits of the city can change dynamically depending on which faction has the most influence at the time.
New voice emotes, which allow you to select a voice for your character and speak while performing certain actions.
Arena Champions, a voluntary PvP arena system which allows you to play either as your avatar or take control of a creature champion.
The ability to climb up cliffs and walls, which has been integrated into the gameplay of this expansion.
Tons of new creatures, quests, zones, and items.
Spellings
无尽的任务II:烈焰沙漠 - Simplified Chinese spelling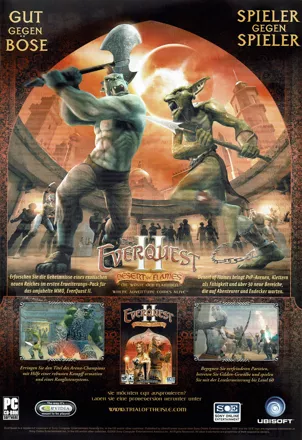 Credits (Windows version)
404 People · View all
Sr. Producer
Producers
Project Manager
Art Director
Associate Art Director
Community Managers
Lead Artist, Characters
Lead Game Designer
Lead Gameplay Designer
Lead Content Designer
Lead Sound Designer
Programming Leads
Associate Producers
Artists, World Builders, and Animators
[ full credits ]
Critics
Average score: 79% (based on 16 ratings)
Players
Average score: 4.2 out of 5 (based on 4 ratings with 0 reviews)
Be the first to review this game!
Contribute
Are you familiar with this game? Help document and preserve this entry in video game history!