(prices updated 9/22 6:34 PM )
Basketball. Michael Jordan. Facial Animations and speech. Jordan. All the players from the 1999 - 2000 NBA season, including rookies. Plus All-Stars teams from past and present. Oh, and Jordan's back.
Like its predecessors in the long-running series, NBA Live 2000 strives for realistic basketball simulation rather than arcade-like gameplay. New moves have been added in this installments, and opponent AI has been tweaked to make victory more dependent on executing the right moves at the right times. As in the previous NBA Live games, it is possible to edit and create basketball players, as well as create and build an own team. This time, it is also possible to use any picture to serve as a player photo.
New to this installment (beside Jordan) is a one-on-one street basketball mode, and a mode that allows management of a team for several seasons, including trading players.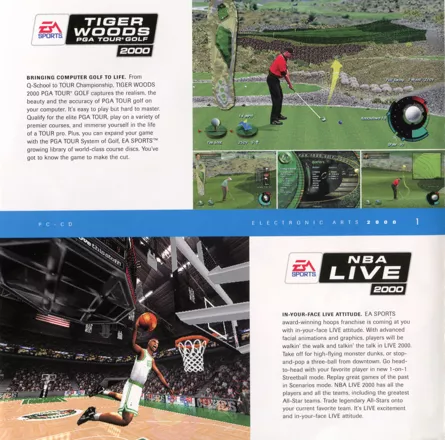 Credits (Windows version)
195 People · View all
European Localization Manager
Localization Coordinator
Testing Coordination
Localised Speech Recording
QA Project Manager
QA Testing Team Lead
QA Testing Team
German Localization Director
German Localization Staff
German Localization Testing
German Localization Translation
German Speech Talent
German Recording Studio
French Localization Director
French Localization Staff
French Localization Testing
French Localization Translation
[ full credits ]
Critics
Average score: 85% (based on 33 ratings)
Players
Average score: 3.4 out of 5 (based on 40 ratings with 1 reviews)
The Good
The things I liked about this game:
Solid gameplay that has been made more realistic (In NBA Live 99 your shooting guard would end up with most of the rebounds, in NBA Live 2000 the right guys get the rebounds). In this version the star players do most of the scoring just like they would in the NBA. So when playing against the Lakers Shaq and Kobe are dangerous and you won't see Robert Horry making a triple double.
Better A.I. of computer opponents, the computer defends a lot better than his NBA Live 99 cousin.
Good controls, there are a lot of different moves you'll have to learn, but one can execute them well.
Good graphics. I especially like the fact that all the players have unique cyberfaces (with the exception of some rookies).
The ability to add your own face into the game. It's quite easy, all you need is a picture of yourself and a scanner.
EA has added 5 teams with legendary players. These include the best players from the 50's, 60's, 70's 80's and 90's. So now you can play with the likes of Jordan, Bird, Chamberlain, Cousy and Doctor J. For some weird reason Kareem is not included.
New franchise mode, in which you can manage your team during 15 seasons. Unfortunately trading is a bit simplified. For instance you can only make trades that involve just two teams.
New game mode called 1-on-1 in which you play a game of street basketball. It's a great way to develop your dribbling skills.


The Bad

The game has a soundtrack with 5 rap/hip-hop songs (by Run D.M.C., Rahzel, Naughty by Nature & George Clinton). The songs are O.K. but they get really annoying when you here them over and over again.
One can say the same thing about the commentary from Don Poyer and Reggie Theus.
Overall the game is a bit to repetitive if you play against the computer. In the Season mode you have the option to play 82 games, I stopped after 15 because there was nothing new to discover. But I guess that's a problem with every sports game.


The Bottom Line
NBA Live 2000 is basically the same game as NBA Live 99 (or 98 for that matter) with updated rosters and a few nice extra features. Because EA wanted to have this game in the stores before the start of the 1999-2000 season they didn't have time to add all the rookie players and include the 1999-2000 opening night rosters (b.t.w. you can get excellent roster patches at the NBA Live Series Center, see links). Overall it is a good game but I would like to see EA make real changes to their game in the future. I wonder what NBA Live 2014 is gonna look like.
Windows · by Roedie (5221) · 2001
Trivia
Cover
NBA Live 2000 features power forward Tim Duncan of the San Antonio Spurs on the cover. This is weird because Kevin Garnett of the Minnesota Timberwolves was contracted for the motion capture process. However, Garnett does appear on the cover of NBA Live 2001. EA probably choose Duncan because 1999 was the year when the Spurs won their first NBA title.
Awards
Computer Gaming World

March 2000 (Issue #188) – Action Game of the Year

GameSpy

1999 – Sports Game of the Year
Information also contributed by Roedie
Contribute
Are you familiar with this game? Help document and preserve this entry in video game history!