(prices updated 9/28 12:13 AM )
Top Spin 2 recreates international tennis with multiple camera views. There are several game modes: Exhibition* - A quick way to begin a match by simply selecting singles or doubles and assigning each controller.
Party Games - These mini-games allow you to play tennis with a twist, similar to Mario Power Tennis:

Time Bomb, in which you must not be the first player to have your countdown timer reach zero;
Wall Breaker, in which you must break more of the opponent's wall behind them than they do of yours;
Splash Court, in which you must coat your opponent's side of the court with as much paint as possible. Career* - The meat of the game; create a player and take them through a multi-season career. In this mode you must manage training (either by taking on your coach, or by taking on mini-games, through which you earn skill points which can be assigned to player attributes), sponsors, and major tournaments to eventually become ranked #1 in the world.
It's also possible to play against others around the world via Xbox Live - you can choose to play a Ranked Match with your own personal character, or instead choose a Player Match and play without any pressure.
Like the original Top Spin (for the X-Box), Top Spin 2 features 24 contemporary tennis pros, such as Venus Williams and Roger Federer. However, Top Spin 2 also features actual tennis locations such as Rod Laver Arena and Wimbeldon.
Spellings
上旋高手2 - Simplified Chinese spelling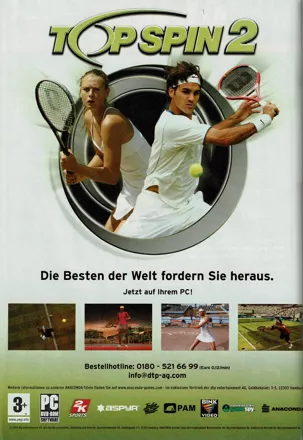 Credits (Xbox 360 version)
321 People (294 developers, 27 thanks) · View all
Producer
Technical Director
Lead Programmer
Game Programmers
Additional Game Programmers
Graphics Programmers
Online Programmers
Gameplay Programmers
Lead Character Artist
[ full credits ]
Critics
Average score: 77% (based on 34 ratings)
Players
Average score: 3.7 out of 5 (based on 12 ratings with 0 reviews)
Be the first to review this game!
Contribute
Are you familiar with this game? Help document and preserve this entry in video game history!