Slater & Charlie Go Camping
aka: Slater & Charlie Go Camping: A Talking Book I Can Read "All By Myself."
Moby ID: 22337
Description
Slater the Petrosaur, protagonist of Sierra's Oil's Well remake, has got himself a buddy in the form of Charlie, another dinosaur of indeterminate species. Together, they visit various locations and undertake various tasks toward the end of enjoying a camping trip in the great outdoors together.
The game is presented as a series of static images, described in text at the bottom of the screen -- then optionally narrated for children whose reading skills aren't yet up to keeping up with the plot. After each description has been read, the illustrations can be interacted with like a pop-up book, numerous hidden hot spots on every page yielding zany + whimsical animations.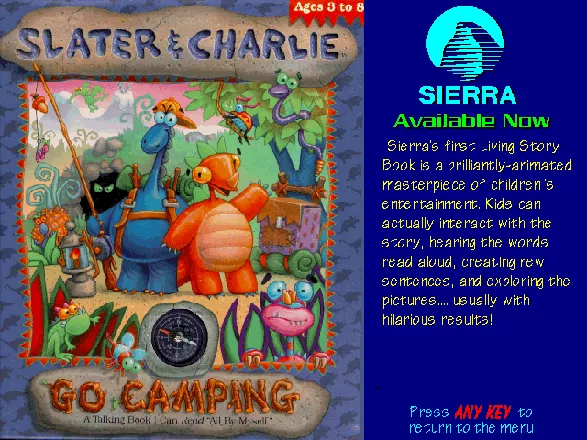 Credits (DOS version)
48 People (41 developers, 7 thanks) · View all
Written, Produced and Directed by
Art Direction
Lead Programmer
Animators
Music and Sound Effects
Programming
Character Design
Backgrounds
Gag writers
Story read by
Electronic ink and paint
Lead quality assurance
[ full credits ]
Critics
Average score: 42% (based on 1 ratings)
Players
Average score: 3.7 out of 5 (based on 6 ratings with 1 reviews)
The Good
Slater & Charlie Go Camping is produced, written, and directed by Bill Davis, who previously worked on The Dagger of Amon Ra and a handful of other titles for Sierra. He established Sierra's Red Dog division, and this was its first game. It features a petrosaur named Slater, a character that appeared in the remake of Oil's Well and featured in animations that are triggered after a player completes a level. He invited his friend Charlie to join him in his adventures.
This is not an adventure game as you would expect from someone like Sierra, but an educational one that is designed specifically for children aged three to eight years (although it can still be enjoyed by adults), and tries to compete with Brøderbund's Living Books series. The game is basically a story that spans 12 pages, about the two characters going camping out in the wilderness. Some of the things they do on their trip include taking photos, catching fish, and go sightseeing.
There are two modes available in the game. In the first mode, "Read To Me", the story is read to you by Ashley Peldon, and certain words are highlighted as he reads them out loud. The game automatically turns the page. When I looked at this option in the initial screen, I thought that it read "Read Tome" because the spacing is a bit off.
In "Let Me Play", Peldon still reads to you, but the game doesn't turn the page. You can click on various things around the screen to trigger an animation. Each page has about 12 animations, and all of them are worth checking out. If you've seen enough, you can turn the page by clicking either arrow next to the text, click the button to the left of the first word to make Peldon read again, or click the Stop sign to quit. You can also use a series of shortcut keys that will make navigation much quicker.
The game first came out on floppy disks, then on CD-ROM under the SierraOriginals label. I don't think you could get bonus features if you went out and brought the latter. In both releases, you get a measly three-page manual which, for once, doesn't bear the huge Sierra logo that dorns the cover. You also get a black compass, which is useful for camping trips. Anyone who isn't interested in this game (me, for instance), can get the game anyway just for the compass.


The Bad
For a game aimed at kids, the graphics are a bit dull. Also, when you are selecting the page you want to view from the control panel, I found that navigation between pages is tedious. Why couldn't they have a drop-down list that kids can select from?

The Bottom Line
In conclusion, Slater & Charlie is a game aimed squarely at children, and it is designed to compete with the Living Books series. The game must not have been a success, otherwise we would have seen more titles that sees them go to the movies, go bowling, etc. Anyway, this is a good game with cartoonish graphics and great sound effects, and worth playing again, just in case you were missing some animations on a specific page the first time around.
DOS · by Katakis | カタキス (43051) · 2016
Contribute
Are you familiar with this game? Help document and preserve this entry in video game history!
Contributors to this Entry
Game added by Pseudo_Intellectual.
Macintosh added by Terok Nor.
Additional contributors: trembyle.
Game added May 9th, 2006. Last modified May 29th, 2023.