Baldur's Gate: Tales of the Sword Coast
aka: Baldur's Gate: Die Legenden der Schwertküste, Baldur's Gate: La légende de l'île perdue, Wrota Baldura: Opowiesci z Wybrzeza Mieczy
(prices updated 9/24 10:16 AM )
This add-on to Baldur's Gate contains new items, voices, abilities, and quests. This does not offer an extension to the main plot of the game but offers four new quests, all of which are very large and may take a few hours to complete. It adds new areas to the game world, including a town named Ulgoth's Beard and a large dungeon, Durlag Tower.
Spellings
博德之门:剑湾传奇 - Simplified Chinese spelling
柏德之門:劍灣傳奇 - Traditional Chinese spelling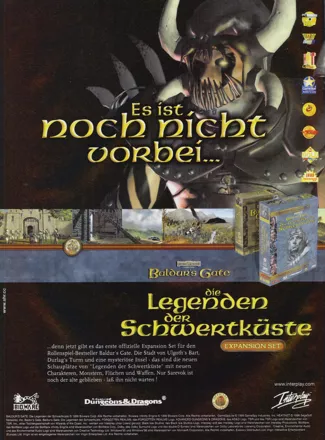 Credits (Windows version)
126 People (120 developers, 6 thanks) · View all
Management
Production
Mass-Production
Audio Lead
Marketing
Public Relations
Production
Lead Design
Lead Text
Design
Lead Artistic
Concept Design
Terrain Graphics
Graphics
[ full credits ]
Critics
Average score: 80% (based on 29 ratings)
Players
Average score: 4.1 out of 5 (based on 88 ratings with 3 reviews)
The Good
I liked the fact that the XP cap was raised enough to allow people to go up an additional level or two. Also, there were some cool new items like the Sling +2 and Quarterstaff +2 (my main character was a Wizard). Also Durlag's Tower was pretty interesting to explore.

The Bad
It didn't do anything to add to the main storyline. But really that's nitpicking on my part.

The Bottom Line
Basically there were a couple of "holes" in the land map for the original Baldur's Gate game so these were plugged with a new town and Durlag's Tower. I think there are four quest added to the game so there were plenty of ways to build your characters up to the maximum XP level (which I was at by the time I finished the game). This was a nice bone for us junkies who'd already finished Baldur's Gate and were waiting for Icewind Dale (and Baldur's Gate II).
Windows · by AstroNerdBoy (35) · 2002
More stuff to kill to better prepare your character for BG2

The Good

All the things that I liked about 'Baldur's Gate' still applies to this expansion. It makes for an enjoyable AD&D experience on the PC. There are three new areas to explore, plus the new town, Ulgoth's Beard. From this town you'll be sent out on quests to the new areas. The most major new area is Durlag's Tower, a many-leveled typical RPG style dungeon. Level after level you descend as increasingly powerful bad guys try to impede you on your quest.
Not to suggest that it isn't fun. It still has the great combat system and overall feel of BG. Plus, the new expansion offers enough new weapons, items, and spells to keep things interesting. The previous experience point cap is raised a bit, allowing you characters to earn another level or two. There are new, more powerful monsters as well, and some of the battles can be quite challenging.

**The Bad**

On the other side of coin, 'Tales of the Sword Coast" has it's faults. The loose story of the expansion is in no way related to the events in 'Baldur's Gate'. It barely gets a mention. This is likely be disappointing for people hoping for some more depth added to the original story.
It is also unfortunate that the expansion was not used as an opportunity to fix some of the flaws of the original. Odd AD&D rules inconsistencies are still there, as are more important issues, such as the tendency for your party to get turned around while walking places. You may direct your party down a corridor, only to find your Ranger walking in the opposite direction.
The onslaught of magic items continues in 'Tales of the Sword Coast', as wands and magic weapons seem to be more common than may be desirable. I feel that it takes away from the excitement of finding certain magic items, when you seem to find them all the time. (Not that I don't like a good magic item.)
'Tales of the Sword Coast' doesn't add a whole lot of new content, and it's not hard to get through it fairly quickly.

**The Bottom Line**

The expansion pack is basically more of the same gameplay that players of 'Baldur's Gate' are familiar with. Just don't expect any compelling story, many gameplay improvements, or a game anywhere near the scope of BG. However, I am sure that anyone who had fun with 'Baldur's Gate' will find some enjoyment with 'Tales of the Sword Coast'. Besides, isn't it really just a way to spend some time improving your character before you play BG2?
Windows · by Entorphane (337) · 2002
Trivia
Awards
Origin Awards

1999 - Best Role-Playing Computer Game
Related Sites +
Baldurdash
A site by Kevin Dorner of Bioware containing unofficial bug fixes for both Baldur's Gate and Tales of the Sword Coast that weren't corrected by any of the official patches.
Contribute
Are you familiar with this game? Help document and preserve this entry in video game history!