Scooby-Doo!: Unmasked
aka: Scooby-Doo!: Démasqué
Moby ID: 22577
Fred and the Gang aim to visit Fred's cousin Jed at the Monstrous Fright and Magic (MFM) movie special effects company. Upon arrival they find Jed has disappeared and so has the formula for Mubber, the substance MFM use to create their special effect animatronic robots used in the movies.
Mystery Inc. needs to find Jed and the formula to unravel the mystery! In true traditional Scooby style you can explore a Haunted Mansion, Museum, Amusement Park, Circus, and some Sewers.
Scooby-Doo! Unmasked DS is played in 2.5 dimensions like Kim Possible: Kimmunicator (also by A2M). So although you move through a 3d environment, your motion is along a curve.
The gameplay is driven by collecting Scooby Snacks, and mubber. Snacks increase your health, but collect enough mubber and you can wear one of four costumes, each of which has a different move to extend the gameplay.
Most enemies you encounter are animatronic creations of MFM and you can collect their mubber for your own uses. Each environment has clues to be collected and a trap to be set, wear your costumes to collect the clues, then take them to Velma to use the touch screen to decipher them. Take trap peices to Fred to create a trap for the enemy. Once the clues are deciphered and the trap is set Shaggy and Scooby embark on a chase to capture the enemies. These chases take the place of traditional video game boss fights. They are funny and in keeping with the action style of the television show.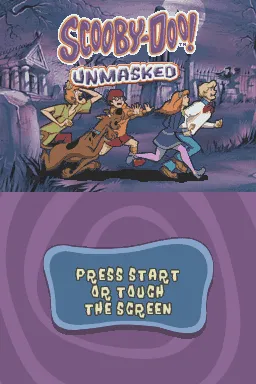 Credits (Nintendo DS version)
143 People (109 developers, 34 thanks) · View all
Scooby-Doo, Shaggy
Zen Tuo, Caveman, Zombie
Kung-Fu Maiden
Voice-Over Direction
Recorded at
Lead Designer
Artistic Director
Game Director
Production Managers
Level Designers
Addtional Level Design
Programming Team Leads
Engine Tech Lead
Engine Programmers
Game Tech Lead
Game Programmers
[ full credits ]
Critics
Average score: 61% (based on 4 ratings)
Contribute
Are you familiar with this game? Help document and preserve this entry in video game history!
Contributors to this Entry
Game added by sean butler.
Additional contributors: Jeanne.
Game added June 11th, 2006. Last modified February 22nd, 2023.