(prices updated 9/28 9:42 PM )
Description
John Madden returns for the '96 season of Madden NFL.
Play exhibition, Super Bowl, playoffs or full season with any of the 1995 teams or all Madden teams.
While you can still select weather and there are over 100 injuries, this version adds voice-overs and the ability to draft and create players and see if they get drafted.
Still includes windowless passing, all new Madden-designed strategies and team match-up that shows how your players stack up to the other team in their position.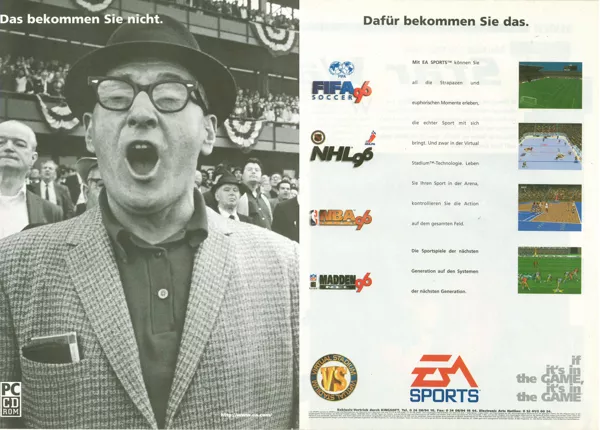 Credits (SNES version)
50 People (40 developers, 10 thanks) · View all
Game Design
Strategy
Programming & Inline skating
Executive Producer
Producer
Associate Producer
Assistant Producer
Lead Artist
Additional Artwork
Sound / Music
Technical Assistance
Play Design
Player Rosters
[ full credits ]
Critics
Average score: 82% (based on 12 ratings)
Players
Average score: 3.3 out of 5 (based on 6 ratings with 1 reviews)
The Good
Madden '96 was the last of the Madden series designed specifically for the 16-bit systems - though the two follow-ups ('97, '98) appeared in 16-bit as watered-down 32-bit versions. Because of this, '96 stands as a turning point in the popular Madden franchise. Gameplay is much the same as the earlier incarnations, the player models cartoonish, generic, and simplistic.
By far, the most fun aspect of the game for me was the addition of mini-games and the Create-a-Player feature. Previous Maddens had used pre-set rosters (without using real names!), with actual football games being the singular mode of play. So, Madden '96 not only included actual NFL players (rather than just jersey numbers), but allowed you to add your own players (real or imaginary) and let you send your created player through Training Camp to set their skill levels via a series of position-specific mini-games.
But you're not limited to the Create Player mode to get some practice at the Training Camp mini-games - thankfully, the designers allow you to get some practice at the individual exercises if you want before doing them for real during the CAP process. These mini-games are really fun, whether you're running the 40-yard dash by button mashing Y & B buttons alternately, or perfecting your kick accuracy, each mini-game is fun and often challenging in itself. One of the most interesting, seemingly non-football related mini-games is called "Coach Rogers" - in this game, you're given a series of button commands ("Left... Right... Up...") and you're required to repeat the sequence. With each successful player response, Coach Rogers adds one more command at the end of the sequence. Before you know it, you're repeating a 10 or 15 button sequence from memory! The further you make it, the higher your player's intelligence level is rated.
When you elect to Create a Player, after providing the basic information about Name, Jersey #, Position, Handedness, Height/Weight, and Team, you're prompted to begin Training Camp to set your skill level. As noted previously, though there are many mini-games included in the game, several are position-specific: meaning, your created QB will not be tested for his Kick Strength or Accuracy! You'll only get one chance at each mini-game during this mode, meaning that if you screw up one drill, you may want to abort your player and go back through all over again or be stuck with a poor attribute rating!
I always took the greatest pleasure in creating myself, family, and friends... then putting us all on a team and going through a season. So, the advent of the CAP mode was a huge step forward for the Madden franchise.
There's no audio commentary from John Madden and Pat Summerall beyond the occasional "First down!", "Touchdown!", and "Boom!" phrases. This was a limitation of the system at the time, but a godsend now, when repetitive and mundane commentary is often seen as one of the weakest aspects of sports titles. Following a touchdown, as your scoring player struts and celebrates, the gameplayer is allowed temporary access to certain sounds (Madden's "Pow", a grunting "Ahh" sound, and whistles/horns), each being assigned a certain button on the controller. This is small, but was hysterically funny as a kid, as your player is celebrating and Madden sounds like he's having convulsions ("Ahh", "Ahh", "Ahh", "Pow!").

The Bad
While it's definitely not fair to compare it against future, more advanced Maddens, it's worth noting that there isn't a lot to the game beyond the aforementioned features.
Player customization hadn't reached its peak at this point, so your player models are all pretty generic regardless of position/size - your 6'5" QB standing next to a 5'10" CB looks the same height.
Though Madden is supposed to be a realistic portrayal of NFL action, there are certain things that just don't work from a reality standpoint. For instance, you can continue tackling after the play is dead and the whistle blown. Because this is not forbidden, it's to your advantage to do so - you might just hear a cracking sound and find that you injured an opponent with your late hit. Fun, but not realistic! Also, certain players can simply dominate a game in an unrealistic way, especially created players. I created a QB with a 95 speed and found that I could call a pass play, then just run my QB around the linemen and rush for 30 yards at a time! Definitely not a good simulation...
Gameplay is just plain glitchy, as receivers make impossible catches with the ball passing through defenders' bodies at times.
Though immensely fun, the requirements of the Create a Player feature gets old when you're trying to create a lot of players. Going through drills, time after time, just to establish attribute ratings for your players can be monotonous and tiresome, especially with the games that reward you the longer you play them (Coach Rogers, Protect the QB, etc). Future Madden titles found the right balance, allowing you to improve players via Training Camp mini-games, but not as the sole means for setting their initial ratings. Also, several drills serve no rationale gameplaying purpose - for instance, the 40-yard dash, QB Distance, and Kick Distance games are based on alternately mashing the Y & B buttons to gain speed... but when you're playing an actual game, Y & B are never utilized in this fashion. So, you practice a certain skill just to pass the mini-game, but you'll not need that same skill during actual games. Seems to me, the point of practice/mini-games should be honing your skills FOR the actual game itself!

The Bottom Line
It's a game of its time. The mini-games are still fun and challenging to go through, even if it amounts to button mashing at times. Striving for the best score in a Training Camp drill is really fun when you have someone else to play along with.
As with most older titles such as this, the main fun is in the nostalgic aspects... remembering different places and times, and what life was like when you first experienced the game.
SNES · by Condemned (71) · 2009
Trivia
Awards
Computer Gaming World

November 1996 (15th anniversary issue) – #9 Top Vaporware Title in Computer Game History (PC version)
Contribute
Are you familiar with this game? Help document and preserve this entry in video game history!
Contributors to this Entry
Game added by LepricahnsGold.
Additional contributors: Patrick Bregger.
Game added June 23rd, 2006. Last modified April 19th, 2023.