A-10 Cuba!, the sequel to A-10 Attack!, is a military air combat simulator featuring the Fairchild-Republic A-10 Thunderbolt II ground attack aircraft, otherwise known as the "Warthog." Like its predecessor, it is a highly realistic simulator with a 3D polygonal graphics engine. New features include more detailed graphics and 12 missions set in an expansive, intricate model of Cuba. Four additional multiplayer-only environments allow up to eight players to compete on a LAN.
The game provides a detailed 2D cockpit with clickable buttons and switches. A wide variety of weapons are available for air-air and air-ground combat, including Sidewinder, Hellfire, Maverick and HARM missiles and free-fall, laser-guided, and cluster bombs. Rockets and the Warthog's famous GAU-8 Avenger gatling gun round out the arsenal.
Physics, damage and avionics are simulated in great detail.
The Macintosh version also includes a mission editor.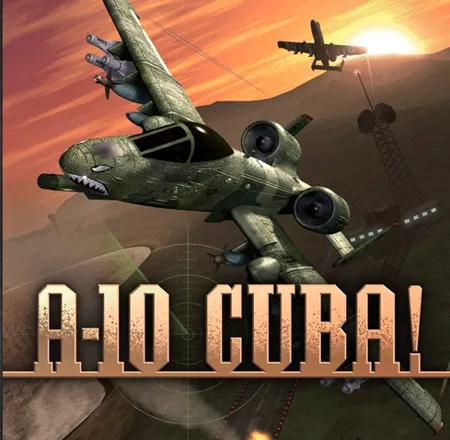 Credits (Windows version)
8 People
Critics
Average score: 72% (based on 23 ratings)
Players
Average score: 3.8 out of 5 (based on 21 ratings with 4 reviews)
An Engrossing, Addictive, Must-Have Simulator

The Good
In creating A-10 Cuba, Eric Parker achieved a perfect blend of realism, playability and originality that have ensured this sim a permanent home in the pantheon of classic air combat titles. Precise attention to detail and excellent mission design are some of the hallmarks of this engrossing title.
To begin with, the physics are incredible. Ground handling, often an afterthought in flight simulators, is superior to some driving sims. Objects collide and ricochet in a very convincing manner, and the Warthog bobs and weaves with all the feel of a real airplane, which I can say as a licensed pilot. When part of a wing or horizontal stabilizer is destroyed, handling and stability are impacted accordingly. Fly too fast with the gear down and you'll see it slowly bend backwards. Clip your wing on a tall building and watch your plane spin out of control. Just about every surface and object in this sim interacts in a realistic way, and half the fun is trying to land your badly crippled Hawg with half a wing and no nose gear. At times, A-10 Cuba feels like a sim that was built around a physics engine.
Of course, fancy physics do not a game make, and thankfully A-10 Cuba provides a very big sandbox in which to explore. Training missions take place in a desert environment full of mesas and plateaus, while actual gameplay occurs in a bustling model of Cuba. Air, sea and ground traffic liven up the world, which is generously sprinkled with towns, harbors and airports. Wander into enemy airspace and you can expect to encounter active and deadly AA. Terrain is varied and interesting, providing ample opportunity to hotdog through valleys and tunnels. Simply exploring the island can be a real treat. An additional set of unusual and imaginative multiplayer-only environments are the icing on the cake.
A-10 Cuba does an excellent job of simulating the avionics and weapons systems of the Warthog. A variety of air-air and air-ground weapons are available including Sidewinder, Maverick and HARM missiles, cluster bombs, free-fall and laser guided bombs, kinetic energy rockets and Durandal anti-runway bombs. This is, of course, in addition to the Hawg's famous rotary cannon, which makes quick work of armored vehicles and AA launchers. Ordinance can be fired in single-release or programmed "ripple" modes, and CCIP ground targeting makes it easy to lob a thousand-pounder right through the enemy's front door.
Fortunately, all these elements combine brilliantly thanks to some very creative mission design. Clever placement of AA means you won't have time to relax enroute to target, and enemy fighters will often arrive when you're just about lined up for a bombing run. Both friendly and enemy AI are quite good, and though you can't communicate with wingmen, they usually get the job done without direction. Ten-plane furballs are a real sight to behold, and A-10 Cuba's generous view controls mean you'll get a good look at the carnage.
Lastly, the graphics may be dated but they're still extremely effective. The flat-polygon models are well made and the color schemes are excellent. As day becomes night the sky reddens, airport runways light up and the instrument lights bathe the cockpit in a warm glow. Without the overhead of texture maps or gouraud shading, this sim can run silky-smooth at 1024x768 even on an ancient 200MHz Pentium.

The Bad
There's not much bad to say about A-10 Cuba, though it does lack some flight-sim staples like a campaign mode and mission editor. The included missions are challenging but end quickly and leave you hungry for more.
The bundled help files are the only manual you'll get, and though they're effective, it feels strange to unwrap a flight simulator and not be greeted with an encyclopedic 200-page user guide.
In short, the main criticism of A-10 Cuba is that there needs to be MORE OF IT !

The Bottom Line
Though over a decade old, A-10 Cuba retains every ounce of its original appeal. The rich world environment, incredible physics and engrossing gameplay make it almost infinitely replayable. For the serious sim enthusiast who enjoys pounding the ground while dodging anti-aircraft rounds, or the Warthog fan who wants to get a feel for the character of this unique plane, A-10 Cuba is not to be missed!
Windows · by SiliconClassics (848) · 2007
Great first combat simulator with desert training and lots of weapons!

The Good
This is one of my favorite real aircraft and this game has been one of my favorites for a couple of years now. 4 basic training levels at a desert air base, and 12 missions in Cuba against land, sea and air targets. All standard weapons in multiple combinations: Sidewinder Missles; Rocket pods; HARMS; Cluster Bombs; 500/1000/2000 bombs (gravity, drag, and Laser Guided): Video, InfraRed, and Laser Guided Phonex type missles; & anti-runway missles. Exstensive controls, works with modern joysticks. Head to Head network combat mode also.

The Bad
Needs 9x/ME, only limited support for Win2000 (crashes if you have to Esc out to view the map or reload weapons). Could use some more missions.

The Bottom Line
Good game for when you have an hour to kill here and there, but not ideal for all-day play. All missions take less than 30 minutes to complete - though some can be streached out longer. After 3 years, I am still learning new tacticts and controls. Definitely belongs in your hanger!
Windows · by Donald Terry (2) · 2003
Too bad it wasn't the Mac version...

The Good
There's so much to like about any Parsoft release it's hard to know where to start describing it. The physics and flight dynamics are excellent, the damage modeling superb, great UI as always, even great graphics. But the hallmark of every Parsoft release is the way you feel you're in an actual "world". In most games if you leave the narrow confines of the mission layout there's nothing going on, the world is empty except for a few hand-placed items. Not so in a Parsoft game. Fly anywhere around Cuba and there's always something going on; trucks driving around, ships coming into dock, maybe even someone shooting at you.
Realism of the planes and weapons is excellent. The A-10 is an old plane with no radar, and this makes the game considerably more interesting in my opinion. To many of the modern aircraft sims consist of pressing keys and then pulling the trigger, but this isn't the case in this game.
Likewise the cockpit was excellent, almost a blueprint of the actual plane. Realism was helped further by the UI they used for running systems in the plane. Holding down the Control key turned the mouse into your pilots hand (a hand cursor actually) and you could click various buttons and switches in the cockpit. Since the A-10's systems are so simple you didn't have any instances of confusing controls or menu navigation, so this system worked very well and saved you from having to remember too many keys. Want to drop the bombs you have? Flick the Master Arm switch to "on", click the buttons for the weapons stations with bombs (they light up), turn the gunsight knob to CPIP, and off you go. Not a single keypress.
In the included missions you fight it out with planes, ships, oodles of ground based anti-aircraft weapons of various sorts, and at one point even have to stop a paradrop. No campaign system though, which was a continuing problem for all Parsoft products.

The Bad
Sadly A-10 Cuba had the bad luck of being released on the PC at about the time that the game world was moving onto hardware acceleration. So while the graphics were out of the world for 1995 when first released on the Mac, they were becoming dated by the time they were released on the PC. The game ended up in that netherworld of fantastic games that looked ancient, with Su-27 being the other obvious example.
Another problem is that there was no "original" A-10 on the PC. On the Mac this game was an update that plugged into the existing A-10 engine (suitably patched of course). In the Mac version you had a full mission editor, maps, waypoint control, etc. In fact it was really two games in one based on a common engine, in "game one" the UI was the aircraft, and in "game two" it was a large 2-d map with moving icons. You could switch between the two games on the fly using the Escape key.
For the PC release they simply whipped up a UI shell for "game one" and stuck it in a box. Game two they never ported. So one of the best things about the A-10 engine, the mission system, was simply thrown in the trash on the PC.
What allowed the games to be "plugged together" on the Mac was a system called VBE - Virtual Battlefield Environment. This was an API that allowed the missions, planes, weapons etc., to be plugged into the basic engine. The missions for both Germany (from the original Mac version) and Cuba were in this format, but without the mission editor (and some associated UI) you couldn't put those Mac missions on the PC.
Worst of all the VBE format was never published. A few people tried to reverse engineer it, but no such luck. The real power of the A-10 engine was never placed in the end-users hands.
As to the missions themselves, I just think they were too hard. The ones in the earlier (Mac based) German pack were tough, but fairly easy to understand. Cuba's are out of the world though.They have dozens of waypoints and special events you need to do at the right time or they don't work. It definitely stole some of the fun out of the game, notably compared to the German missions.

The Bottom Line
This is still a great game any way you look at it, and tonnes of fun. But sadly this just isn't the game that it was on the Mac.
Windows · by Maury Markowitz (266) · 2001
Contribute
Are you familiar with this game? Help document and preserve this entry in video game history!
Contributors to this Entry
Game added by Gene Davison.
Macintosh added by magisterrex.
Additional contributors: Kennyannydenny.
Game added September 4th, 2000. Last modified June 4th, 2023.