Guild Wars: Nightfall
aka: Guild Wars Nightfall 2008, Guild Wars Nightfall. Русское издание, Nightfall, 審判の章
Moby ID: 24693
In the 3rd installment of the Guild Wars series, you explore the lands of Elona. This land is divided into the three provinces: Istan, Kourna and Vaabi. There is peace between the fractions at the moment, but the fallen God Abaddon prepares his return with the help of his devotees to bring back once again Nightfall over Elona.
Besides the whole new land and updated graphics, the game also brings big and small changes not only limited to this game but also for Prophecies and Factions. For instance, it is now possible to save different templates of skills.
The biggest changes were made to the AI. You can hire computer-controlled characters to help you on your missions. You can not only give them orders like "stay here" or "go there", there's also a whole new class of AI-helpers called "heroes". They are still controlled by the AI, but you can define them as you wish and completely gear them up as you like. They now also increase in rank on their own.
Nightfall adds two new playable classes to the game: Dervish and Paragon. The Paragon likes to fight with a spear and shield from the back of the line. He also supports his teammates with various battle cries. The Dervish on the other hand, loves to get into the pile and fight the enemies with his scythe. He also has the ability to transform himself into an avatar of one of the gods which gives him new skills and abilities.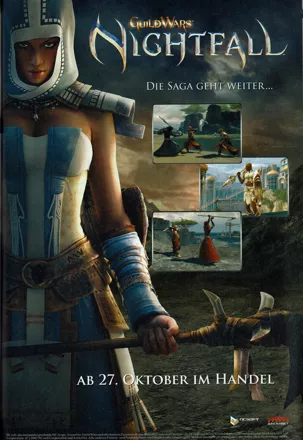 Credits (Windows version)
474 People · View all
Critics
Average score: 85% (based on 27 ratings)
Players
Average score: 4.2 out of 5 (based on 15 ratings with 0 reviews)
Be the first to review this game!
Trivia
References
One of the new skills is called Make Your Time!, a phrase lifted from the English localization of the cult game Zero Wing.
Amongst many other pop culture references in the game, the skill "It's Just a Flesh Wound" is a reference to the comedy Monty Python and the Holy Grail.
Awards
4Players

2006 – Best Online Role-Playing Game of the Year

Games for Windows Magazine

March 2007 - #9 Game of the Year 2006

GameSpy

2006 – PC MMORPG of the Year

GameStar (Germany)

February 01, 2007 - Best PC Online Game in 2006 (together with Guild Wars: Factions) (Readers' Vote)
Contribute
Are you familiar with this game? Help document and preserve this entry in video game history!