F.E.A.R.: Extraction Point
aka: FEAR: Extraction Point
This first expansion to F.E.A.R. directly begins where the original left. The protagonist survived the explosion of the secret laboratory along with two of his teammates, Holiday and Jin, and they're now on their way back to base by helicopter, assuming the day had been saved and Alma and Fettel would be dead. But as always, nothing seems as it is and Alma suddenly boards the helicopter, causing it to crash down. Separated from their teammates, the player must make their way to the extraction point without knowing what awaits them...
This new mission will pit once again the player against the Replica Soldiers as well as some new mysterious enemies whose intentions aren't quite clear. To deal with all these foes, weapons from the original game (like the Shotgun or the Nailgun) are available, along with a few new ones introduced in this expansion, like the Minigun.
Spellings
F.E.A.R.: Эвакуация - Russian spelling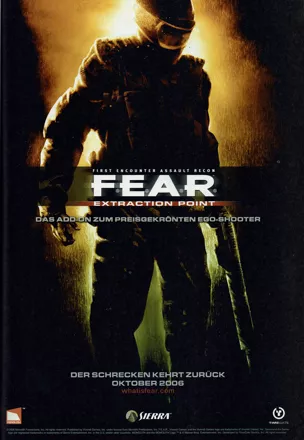 Credits (Windows version)
351 People (293 developers, 58 thanks) · View all
Executive Producers
Associate Producer
Lead Programmer
Software Engineer
Tools Programming
Additional Programming
Lead Designer
Level Designers
Additional Sound Design
Writer
Voice Directior (original version)
Lead Artist
Sr. Animator
Sr. Artists
Environmental Artist
[ full credits ]
Trivia
Dell
On some levels you can find XPS-themed monitors, CPU cases and laptops manufactured by Dell, which might be an in-game advertising.
Subway maps
In the subway levels, several places have subway maps present, probably to increase the sense of realism in the game. However, these maps are actually parts of the real New York City Metro subway maps. This is most likely an easter egg, since the events of F.E.A.R. take place in a fictional and seemingly west-coast city.
Awards
4Players

2006 – #2 Best AI of the Year
Contribute
Know about this game? Add your expertise to help preserve this entry in video game history!