Wings of Death
aka: Spellbinder, Wings of War
Moby ID: 24978
Description
Wings of Death is a vertically scrolling shoot'em'up with a fantasy setting. You start out as a small insect, flying through a deranged castle filled with hostile animals and monsters.
The upgrade system is rich, and differs somewhat from genre conventions. As you upgrade, your insect turns into a more powerful bat or a mighty dragon. Shooting enemies reveals the various upgrades, and picking up several upgrades of the same kind upgrades that particular weapon level after level. Enemies may also release anti-powerups, marked by a skull. These will downgrade your weapon or draw your energy level.
After fighting the end boss of the castle, a three-headed dragon, you move onto a jungle, a swamp and further... That is, if you survive. Wings of Death has an unparalleled number of bullets and enemy objects on-screen for its time and platform, the maximum number being reported as 95. Coded by former demo programmers, the game also runs in full 50 or 60 Hz scrolling while playing digitised music even on an Atari ST, thanks to inventive hardware tricks used in few other commercial games. It also utilises the extra colour palettes of the Atari STe.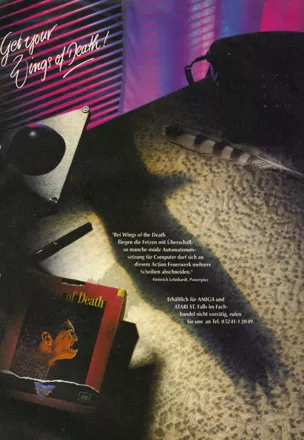 Credits (Amiga version)
20 People (9 developers, 11 thanks)
| | |
| --- | --- |
| Programming | |
| Main Graphics | |
| Game Design | |
| Music | |
| ST Digisynth | |
| Additional GFX | |
| Special GFX | |
| Story | |
| Thanks to | |
| Cover Artwork | |
Critics
Average score: 75% (based on 8 ratings)
Players
Average score: 4.3 out of 5 (based on 5 ratings with 0 reviews)
Be the first to review this game!
Trivia
Remake
The game was remade for Windows as Blazing Wings.
Awards
ST Format

Issue 01/1991 – #7 Best Shoot-'em-Up Game in 1990 (Atari ST)
Contribute
Are you familiar with this game? Help document and preserve this entry in video game history!
Contributors to this Entry
Game added by Игги Друге.
Additional contributors: Sciere, Jo ST.
Game added November 14th, 2006. Last modified February 22nd, 2023.