Realms of Darkness
aka: Rogue Alliance
Moby ID: 25042
Description
Realms of Darkness combines traditional RPG gameplay (party, stats, and combat system) with some elements borrowed from text adventures.
Assemble a party of one to eight characters and go on quests to gain power and riches and magical items by defeating monsters. The game consists of many scenarios, each requiring several hours of playing to be completed. Move around in the realms using your keyboard or joystick or both. Travel and explore cities, dungeons, caverns and other types of dwellings. and talk to city inhabitants.
Creating characters requires that you determine their traits and abilities which are defined as six attributes: Wisdom, Intelligence, Agility, Strength, Vitality and Luck. Choose their profession or class. Your choices are Fighter, Sorcerer, Priest, Thief, Champion, Knight, Barbarian or Friar. Finally, decide what race they will be, Gnome, Dwarf, Elf or Human. Once that is done, choose the sex and type your characters name. Once you have assembled your party, your adventure can begin.
Certain situations require the player to type very detailed, context-specific commands (such as for example "shout") in order to solve a puzzle or otherwise advance in the game. This feature gives Realms of Darkness a flavor of an adventure game. The player can also split the party in two and control both while exploring different locations.
Spellings
ローグ・アライアンス - Japanese spelling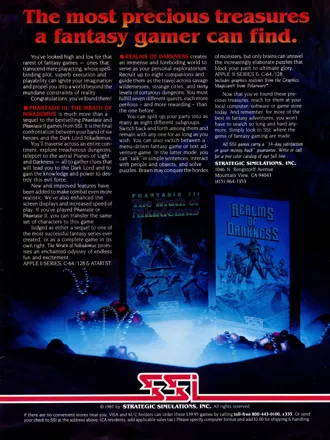 Credits (Apple II version)
20 People (18 developers, 2 thanks)
| | |
| --- | --- |
| Game Program | |
| Computer Graphics | |
| Game Design | |
| Manual Text | |
| Product Development | |
| Product Management | |
| Playtesters | |
| Art & Graphic Design | |
| Art Director | |
| Illustrator | |
| Includes graphics routines from The Graphics Magician® by | |
| Typesetting | |
| Printing | A&a Printers and Lithographers |
| Thanks to | |
Players
Average score: 4.0 out of 5 (based on 2 ratings with 0 reviews)
Be the first to review this game!
Trivia
Japanese title
When the game was ported to Japanese computers the name was changed to Rogue Alliance. According to former StarCraft employee Toshio Sato in a retrospective interview for RPG Codex: "the term Realms, from the title Realms of Darkness, wasn't something that would strike the Japanese people's eye no matter if we'd chosen to translate it into Japanese or just put it in katakana. As a consequence, I remember they decided to choose some words from the game's scenario for the title instead, which were supposed to leave a much deeper impression.​"
Contribute
Are you familiar with this game? Help document and preserve this entry in video game history!