The Pirates of Dark Water
The watery world of Mer is threatened by the deadly Dark Water. Prince Ren and his companions must find the Treasures of Rule to control the Dark Water and return Mer to its former glory. Always hot on their heels is the evil pirate-lord Bloth who wants to find the treasures to rule over Mer.
Based on a cartoon series by the same name, The Pirates of Dark Water is a side scrolling fighting game similar to Final Fight or Streets of Rage.
The player chooses a character, from among Prince Ren and his two companions Tula and Ioz, who differ in strength and agility, but who use the same basic attacks. There are two attack buttons, one for fast attacks and combinations and one for a single heavy attack. Other controls include: blocking attacks, grabbing and throwing opponents, dash attacks while running, and a special attack that hits multiple enemies consuming life energy at the same time. Most levels also require you to avoid obstacles like chasms, falling rocks or spikes that shoot out of the ground.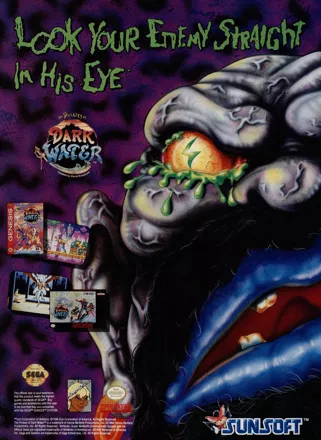 Credits (SNES version)
55 People (35 developers, 20 thanks) · View all
Game Designer
Programmer
Graphic Designers
Sound Composer
Sound Programmers
Chairman
Vice Chairman
Director, SunSoft Japan
International Development Coordinator
Executive Producer
Executive Vice President
Co-Producers
Producer
Associate Producers
Technical Manager
Marketing Director
Game Play Manual
[ full credits ]
Critics
Average score: 64% (based on 11 ratings)
Players
Average score: 3.3 out of 5 (based on 2 ratings with 0 reviews)
Be the first to review this game!
Contribute
Are you familiar with this game? Help document and preserve this entry in video game history!
Contributors to this Entry
Game added by Mobygamesisreanimated.
Game added November 30th, 2006. Last modified February 22nd, 2023.