Ringworld: Revenge of the Patriarch
aka: Ringworld: La Venganza del Patriarca
A graphical adventure set in Larry Niven's "Known Space" universe. The centerpiece of the Known Space universe is the Ringworld, an artificially created planet that is actually an immense band orbiting a distant star (Halo borrows this idea for its setting). If you aren't familiar with Niven's series, go out and pick up any one of the dozens of Known Space books and you won't be far from having to track down all of them.
In Revenge of the Patriarch, the player must travel to the Ringworld to uncover information which could prevent the alien Kzinti from starting another war with humanity. It follows the standard point and click formula for adventure games.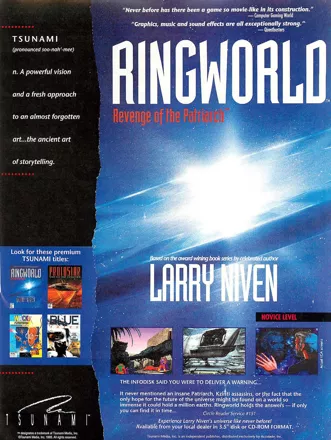 Credits (DOS version)
23 People · View all
Ringworld and Known Space created by
Game Design
Game Programming
Pre-Production Design & Art Direction
Animation
Backgrounds
Talker Animation
Musical Score
TsAGE Developed by
[ full credits ]
Trivia
Extras
Some copies of the game shipped with a free copy of Niven's original Ringworld novel.
Awards
Computer Gaming World

November 1996 (15th anniversary issue) – #14 Worst Game of All Time
Contribute
Know about this game? Add your expertise to help preserve this entry in video game history!