The Legend of Spyro: A New Beginning
Moby ID: 25877
When the Dark Master attacked the sacred temple, the Fire Guardian, Ignitus, could only manage to save one of the dragon eggs from being destroyed. This egg found its way to a family of dragonflies, who raised the newly hatched dragon as one of their own, along with their son Sparx. The dragon, Spyro, soon discovered his heritage, and with Sparx, began on a quest to discover himself and eventually, save the world from the Dark Master's forces.
The Legend of Spyro: A New Beginning is top-down action game based on the console game of the same name. As Spyro, players fight their way through hordes of Cynder's minions and monsters. Spyro can perform melee attacks with Y, and create combos with repeated hits. He will also learn breath attacks, based on the elements of fire, ice, electricity and earth. He can use his primary breath attack, or a more powerful secondary breath attack, which consumes more energy to use. Some enemies cannot actually be hurt by any of these attacks; in situations like these, the player will need to tap the touch screen to attack them.
The DS version of the game also features 'Power Crystal Puzzles', which must be solved at key points in the game to progress. The objective of these games is to place a series of mirrors in the playfield to guide a light beam around obstacles to the goal. Some mirrors will split the beam of light into two beams, while prisms will separate the light into other colours.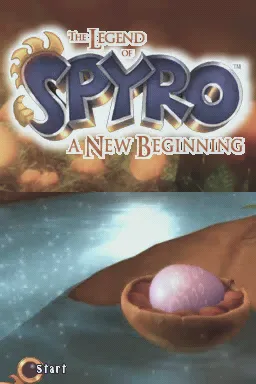 Credits (Nintendo DS version)
263 People (238 developers, 25 thanks) · View all
Executive Producers
Executive Studio Director
Creative Director
Senior Producer
Associate Producer
Programming Lead
Art Lead
Animation Lead
Programmers
Additional Programmers
Designers
Additional Design
Environment Art
Animation Effects
[ full credits ]
Critics
Average score: 69% (based on 6 ratings)
Players
Average score: 5.0 out of 5 (based on 2 ratings with 0 reviews)
Be the first to review this game!
Contribute
Are you familiar with this game? Help document and preserve this entry in video game history!
Contributors to this Entry
Game added by Ben K.
Game added January 8th, 2007. Last modified February 22nd, 2023.