Space Crusade
Moby ID: 2593
Official Add-on
Space Crusade is a science fiction strategy game converted from the Games Workshop/Milton Bradley boardgame, in which you control a commander and four marines who are sent on different missions aboard hostile alien starships. Your commander starts off as a sergeant, but he can work his way through the ranks. The game allows three players, each commanding one marine chapter each. The alien team is played by the computer.
The game is a literal conversion of the board game in the same vein as Gremlin's earlier Hero Quest. It can be best described as a turn-based board game in which the player must fulfill the primary and secondary objectives to complete the mission, which usually involves elimination of entire alien force on board or destruction of mothership etc. This game features unique 3D close-ups during the battle scenes, a feature which was later adopted by games like the X-Com series.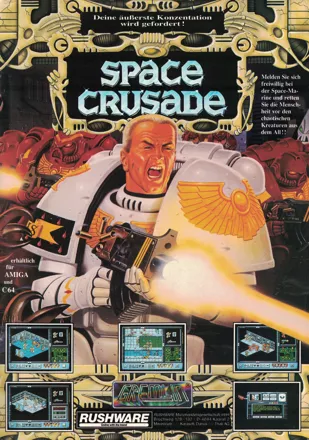 Credits (DOS version)
4 People
| | |
| --- | --- |
| Programming | |
| Graphics | |
| Intro | |
| Sound | |
Critics
Average score: 78% (based on 30 ratings)
Players
Average score: 2.9 out of 5 (based on 30 ratings with 2 reviews)
All the thrills of the original board game, none of the maths!!

The Good
For the Amiga, and as an avid fan of the original game, this was a delight on the eyes. The graphics were bold, bright and sharp and the gameplay was excellent. This version of the game managed to focus the best elements of the board game and translate it into a turn-based strategy game that was quick, exciting and high in replayability. Animations was good and sprites were very detailed. All in all, it was a winning conversion and a gem in the Amiga crown.

The Bad
There are really not too many bad points to this game, the only real disappointment was that the player was not able to take the role of the aliens and fight against the space marines (on the board game, one player is always the alien). Otherwise, no complaints.

The Bottom Line
This is a turn-based strategy game based on a popular board game from the early days of the Games Workshop. It is a fun roleplaying adventure directing of a squad of tough space marine soldiers as they fight the hoards of Chaos in derelict space ships in the far future. Cool or what!!
Amiga · by Russell Crawford (2) · 2008
The Good
I've played a lot of the "Hero Quest" board game, so this game is nothing new to me. It's basically a sci-fi version of HQ. But unlike "Hero Quest", THIS board game succeeded in converting to a computer game. The 3D fight scenes are fun to watch, and the enemies are nice and varied. The RPG and board game feels are never lost. There's plenty of strategy to consider ( for instance, you can use a scanner to see what enemies are ahead, but if you do, they will be alerted to your presence) and you'll need more then a little luck.

The Bad
The graphics in top-down view are pretty bad. Fights, based on randomly generated numbers, are inconsistent ( you can blast an orc with a missile launcher for hours without results if you're not lucky, but a pitiful goblin can kill your well-trained space marine with a laser if he's lucky). There's no health meter, so you can't tell if you're dying.

The Bottom Line
Really fun, but with flaws. Don't play it if you're really impatient. If you're patient, though, enjoy. 8\10
DOS · by Zorgob (25) · 2002
Trivia
Awards
Commodore Format

July 1993 (Issue 34) - Modern Classics: FRP & RPG (Check 'em out)
Contribute
Are you familiar with this game? Help document and preserve this entry in video game history!