The Three Stooges
Moby ID: 27
Stars of television and cinema, and now stars of their own video game. Join Moe, Larry & Curly (in no particular order) who must collect $5000 to try and save an orphanage and the young children who live there from the evil banker, all while keeping pie out of their face. Featuring platform level designs based on classic Stooge scenes from their many TV episodes and movies and level objectives re-living many of their antics plus original Stooge voices and Stooge trivia.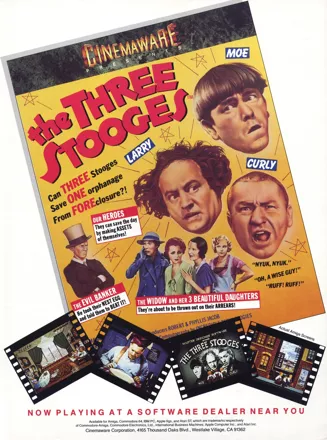 Credits (DOS version)
16 People (11 developers, 5 thanks)
| | |
| --- | --- |
| Design | |
| Graphics / Artwork | |
| Sound | |
| Producer | |
| Undetermined | |
| Special Thanks To | |
| Programming | |
| Music / Sound Programming | |
Critics
Average score: 63% (based on 19 ratings)
Players
Average score: 3.6 out of 5 (based on 56 ratings with 1 reviews)
The Good
Though it didn't sell well, I thought the game design was great (a board game main mechanic wraps the various gamettes.)
The gamettes were not that great, but some sweet digital sound bites ("Hey Moe!") make up for it

**The Bad**
PC version graphics and sounds suffer from the Amiga version. I worked on the Nintedo version, and liked it better then the PC one!

**The Bottom Line**
A bizzare game design experiment, but if you like the Stooges, check it out.
DOS · by Tony Van (2804) · 2000
Trivia
Multiple endings
There are multiple endings, depending on the amount of money earned. Less than $5000: the bank takes back the orphanage; $5000-$8995: the rent is paid, but the orphanage still requires repairs; $9000-$19995: the orphanage is fully repaired; $20000+: the Stooges marry the daughters.
References
At the beginning of the NES version, the Stooges stand in front of the Ghostbusters II logo, and make comments about how they are in the wrong game.
In the PC version, the Stooges stand in front of a Defender Of The Crown title screen.
References to the game
This game is featured in the movie Lethal Weapon 3 on Lorna Cole's (Rene Russo) computer. Part of her background in the film is that she's a Three Stooges fan.
Sound
The digitized voices and pictures used in this game come from real Three Stooges shorts.
On the PC, The Three Stooges was much more enjoyable on the Tandy/PCjr series over the traditional PC and clones because the sound chip was utilized quite well. Not only was it used for 3-voice music and sound effects, but for the digitized speech as well. This enabled the sound of Larry, Moe, and Curly to come through much clearer than through the conventional PC speaker.
Timothy Skelly
One of the game's designers was Timothy "Tim" Skelly. Skelly worked with Cinematronics to design and program many early 80's arcade games including Star Hawk, Star Castle, Armor Attack and more.
Information also contributed by Guy Chapman, J. Michael Bottorff, Peter Ferrie, Ricky Derocher, and WildKard
Contribute
Are you familiar with this game? Help document and preserve this entry in video game history!