When assaulted by a gang of vicious thugs, a shady drifter named Gene gets his right arm cut off. When he comes to, he finds himself with a young girl at his side, and his right arm reattached. But this is no longer an ordinary arm: it's been replaced with the legendary 'God Hand', and now that he's got it, Gene's on the hunt by every demon in the county, as they all want their hands on his. And with four powerful figures planning the demise of the world, things are probably gonna get ugly.
God Hand is a Western-style 3D beat-em-up where the protagonist punches enemies repeatedly with an incredibly powerful fist. The player can completely customize their attacks to their liking, as well as earning new ones. It is possible to set up a combo for four presses of the square button (choosing each attack for each press), or select more powerful special attacks and juggles. Dodging enemy attacks can be performed by moving the analog stick in the corresponding direction. Sometimes, stunning an enemy will cause a "press this button" icon to appear on-screen (similarly to God of War); if the player performs well at this bonus prompt, Gene will deal some extra damage to the enemy.
Once Gene has wailed on enemies enough with his regular fists, his 'Tension Gauge' will become full and the player can then press a special button to use the God Hand itself. This will make Gene completely invincible, more powerful and sped-up for a brief time. The player also has the option to use 'Roulette Moves', which use a special attack depending on the one selected.
The game also features a casino where the player can gamble using the slots, video poker, or blackjack. Cash earned at the Casino can be used to purchase all sorts of moves for Gene as well as other power-ups.
Spellings
ゴッドハンド - Japanese spelling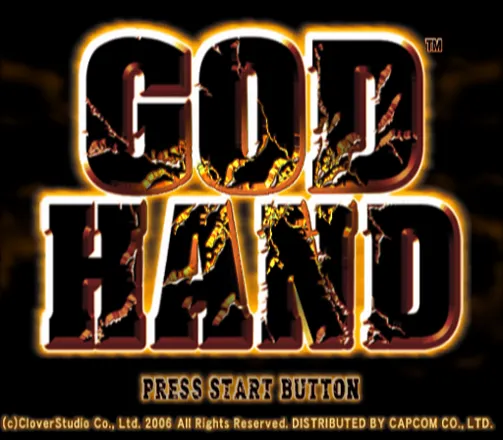 Credits (PlayStation 2 version)
131 People (129 developers, 2 thanks) · View all
Planning
Lead Programmer
Player & Enemy AI Programmer
Graphic System Programmer
Sound & Authoring System Programmer
Effect & Event System Programmer
Collision System Programmer
Interface Design Programmer
Random Number Generator
Lead Designer
Model Design
Motion Design
Character Faces
Effect Design
Item & Breakable Models
2D Visual Design
Background Design
[ full credits ]
Critics
Average score: 72% (based on 32 ratings)
Players
Average score: 4.0 out of 5 (based on 22 ratings with 0 reviews)
Be the first to review this game!
Trivia
1001 Video Games
God Hand appears in the book 1001 Video Games You Must Play Before You Die by General Editor Tony Mott.
Regional differences
The Roulette Wheel move Head Slicer doesn't have the decapitation effect in the Japanese version of the game. Also, the Roulette Wheel move Dead Pan is exclusive to the Japanese version of the game.
Contribute
Are you familiar with this game? Help document and preserve this entry in video game history!