3-D Ultra Pinball: Thrillride
aka: 3-D Ultra Pinball: Achterwahn, 3-D Ultra Pinball: Le Grand Huit, 3D Ultra Pinball: Thrill Ride
Moby ID: 2706
Imagine a pinball machine emulating a full amusement park, and not just any park, but Hersheypark in Hershey, Pennsylvania, "The sweetest place on Earth!"(tm)! Over 15 action-packed "rides", plenty of special events include "lights out" fireworks show, double multi-ball event, side tables, multiple flipper sets, and more!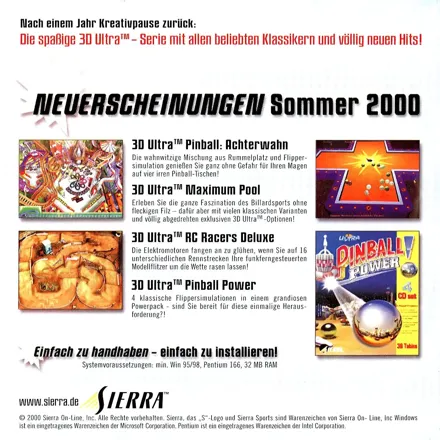 Credits (Windows version)
70 People · View all
Executive Producer
Associate Producer
Producer
Designer
Art Director
Lead Programmer
Programmers
Engine Programmers
Pinball Design Consultant
Production Assistant
Conceptual Art
Lead 3D Artists
Supporting 3D Artists
[ full credits ]
Critics
Average score: 64% (based on 9 ratings)
Players
Average score: 4.2 out of 5 (based on 6 ratings with 0 reviews)
Be the first to review this game!
Trivia
Credits
When in-game, go to the Help menu then to "About Pinball". You will be shown the game credits. While viewing the credits, use the up and down arrow keys to scroll quicker through the list. Hold down the shift key while pressing the up and down arrow keys to scroll even quicker. Hold down the CTRL key to see hidden special messages for some of the peoples names.
Demo Mode
If you sit at the main menu for a few minutes without touching your mouse or keyboard, the game will automatically take you to the "Play Pinball" screen where you enter your name to play. If you still don't touch your keyboard or mouse, the game will start up and it will start playing by itself using the last player name entered! This is like a demo mode, and although it plays through all of the balls currently set for a game and tells you that you have a new high score, this score is not saved.
Main Menu
Whenever you return to the main menu, the ticker-tape marquee will display random facts, tricks and tips about the game and other interesting information.
Contribute
Are you familiar with this game? Help document and preserve this entry in video game history!