Nova 9: The Return of Gir Draxon
It has been two years since the Stellar 7 war. Gir Draxon, the villain, has not been found. Nova 9 has just issued a distress call... Captain John Alex, takes the experimental Raven II tank to investigate the distress call...
Nova 9 is the sequel to Dynamix's Stellar 7, a futuristic "tank" shooter, and features similar gameplay. Played from a first person perspective in the cockpit of your tank, the goal is to destroy all of the various enemies found on nine planets. John Alex's tank, the Raven II, is equipped with various weaponry and a long range scanner to help in the mission. It is also equipped with a cloaking device for emergencies. Additional power-ups such as pickup energy and enhancement modules can be either beamed in or "salvaged" from the enemy wreckage.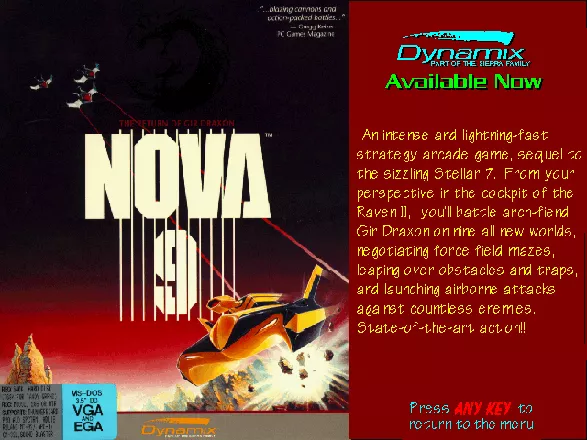 Credits (DOS version)
37 People · View all
Designer
Art Director
Programmer
3-D Graphics
Background Painting
Artists VGA
Artists EGA
Writer
World Design
[ full credits ]
Critics
Average score: 75% (based on 8 ratings)
Players
Average score: 4.0 out of 5 (based on 12 ratings with 3 reviews)
The Good
This game totally drew me in. Both the music (Roland/LAPC-1) and graphics were incredible at the time.
The levels, enemies and bosses were all very creative and varied.
Map puzzles were challenging but not impossible.

The Bad
Like others have said. This game is HARD. It takes relentless persistence and problem solving to beat this game. I did manage to beat this game but it took a lot of blood sweat and tears, so to speak.
Its probably its difficulty that made completing the game that much more satisfying.


The Bottom Line
Recommended to those who wish to see what the BEST first person 3d type shooters were in the day, and who aren't afraid of a challenge.
DOS · by coolkev99 (1) · 2006
The Good
The graphics and sounds were quite good for their time. The ability to see your home base and talk to your computer added to the immersion factor. And driving a hover-tank is simply fun.

The Bad
Dear God, WHY is it so hard? Stellar 7 had a very nice gameplay balance, ramping up to be pretty difficult (but winnable) by the end. This game, however, starts out by kicking you in the head a few times, and then continues to gloat over your body every time you die. The addition of puzzles alongside the huge multitude of things killing you was pure sadism. I don't know anyone who even managed to get halfway through the game.

The Bottom Line
Hard as a frickin' rock. While probably not as insanely difficult as Shadow of the Beast, it's well up there.
DOS · by WizardX (116) · 2003
A first-person puzzle? Gimme a break!

The Good
Good graphics (for its time), lots of imaginative weapons and enemies

The Bad
What's with all the puzzles? This is a tank, not Mario and Luigi!

The Bottom Line
Nova 9, the sequel to the action hit Stellar 7, went in a completely different direction. Instead of concentrating on bigger and better action, the designers added first-person PUZZLES into the game. Typical puzzle: shoot a mirror with a laser at an angle to hit a target you couldn't hit otherwise. Once that target is destroyed, it drops one forcefield. You then move to that force field to attract two cannons to shoot, then you dance out of the way, leaving two cannons to shoot each other, dropping two more force fields. Then you use the ramp revealed to jump over that last forcefield to enter the gate... This sadly breaks up the action rhythm of the game, and has little if anything to do with the plot. It's simply DUMB DESIGN. There are occasional thoughts of brilliance, like a boss who's only vulnerable when he opens his mouth, and so on. At other times, the game is just so frustrating with its puzzles. NOT recommended.
DOS · by Kasey Chang (4601) · 2000
Contribute
Are you familiar with this game? Help document and preserve this entry in video game history!
Contributors to this Entry
Game added by Kasey Chang.
Amiga added by Servo.
Game added December 3rd, 2000. Last modified August 17th, 2023.