Description
Europe 390 A.D. - the Migration Period: As the Western Roman Empire struggles to repel migrating Germanic tribes fleeing from the incursion of the Huns into Eastern Europe, several of its provinces are breaking away seeking independence.
In "Elysium", you rule one of these independent provinces. Your goal is threefold: (1) survive politically until the fall of the Western Roman Empire in 476 A.D.; (2) make your country the most livable for your people, turning it into an "Elysium", an island of the blessed in those turbulent times; (3) (optionally) build an empire of your own by conquering other provinces.
Your challenges are firstly foreign and secondly domestic: ward off pillaging barbarian tribes such as the Vandals or the Huns and defend against legions of Roman troops sent by the Emperor to forcibly reintegrate you into his failing Empire. This requires building, equipping and maintaining a whole army of militia, career soldiers and mercenaries, financed by a vibrant domestic economy. Thus your tasks at home include the production of agricultural and other goods and building the necessary infrastructure, trade by sea and land, law enforcement and taxation, and most importantly: stay in power by keeping the masses happy with "bread and circuses".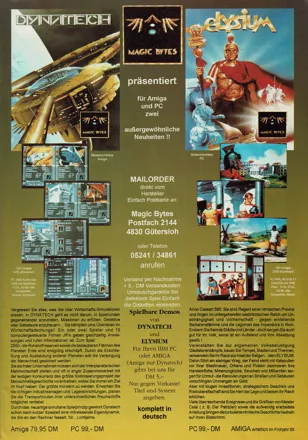 Credits (DOS version)
11 People
| | |
| --- | --- |
| Programming | |
| Assembler routines | |
| EGA graphics | |
| VGA graphics | |
| Formulas | |
| Writing | |
| Idea | |
| Design | |
| Playtesting | |
| Music | |
| Sound | |
| Cover Art | |
Critics
Average score: 62% (based on 8 ratings)
Players
Average score: 3.8 out of 5 (based on 4 ratings with 1 reviews)
The Good
We played this amazing little pearl of a game in multi-player-mode for what seems a full year in the early nineties. Very challenging to play, as the game rather correctly simulates the time-span. Thus, life as governor of a Roman province does have quite a few moments of frustration ...
The game lets you manage the administration of the treasury, trade, the military, infrastructure both on province level and city level, and though the technical possibilities of the times it was published limit the realisation of its concept, the concept itself is superbly designed, and great fun to play.
Of course, memory betrays us, but I'd say: its a shame they don't build games like this any more. ;-)

The Bad
There is no option to influence the battles, which, though neatly rendered with little figures, are calculated.

The Bottom Line
Strategic level empire builder with good hot-seat multi-player option.
DOS · by Polyphem (1) · 2009
Trivia
Amiga version
The Amiga version uses the 64-colour Extra HalfBrite mode. Unusual for the time, it has extra features on Amigas with more than 1Mb of memory (the background music requires this) or a hard drive (a couple of extra visual effects).
Contribute
Are you familiar with this game? Help document and preserve this entry in video game history!