The Lord of the Rings Online: Shadows of Angmar
aka: Der Herr der Ringe Online: Die Schatten von Angmar, LOTRO, Le Seigneur Des Anneaux Online: Les Ombres D'Angmar , The Lord of the Rings Online
The Lord of the Rings Online brings the world of J.R.R. Tolkien to the MMO community. Middle-earth is represented accurately in this game, with the majority of locations from the books found throughout the game world. The original release of this game comes with the lands of Eriador, where the Shire and Rivendell are located. Players will have the chance to meet many characters from the books, from Gandalf and Bilbo to Frodo and Samwise.
Players can choose from 4 races - hobbit, elf, dwarf, or human and seven classes. The classes range from the warrior class of Guardian to the archer class of Hunter and the wizard class of Lore-Master. Although the classes appear to be similar to classes in other games, they have unique qualities to them in this one. For example, the wizard class (Lore-Master) uses pets and the rogue class (Burglar) isn't a DPS class.
Similar to other MMORPG games, this game has players travelling the game world, doing quests, killing creatures, and crafting things. However, rather than making grinding a requirement to level up, quests are where the experience is located. Killing creatures gives very little experience in an effort to decrease the amount of grinding done in the game. Crafting is also somewhat unique. Players choose a vocation that includes 3 professions. Two of the professions will go together, such as prospecting and weaponsmithing, but the third profession will require working with other players to obtain the necessary materials for the profession. This design was chosen to get players working together in the game.
Beyond questing, there is also a Deed system, where you complete Deeds by doing certain things such as killing a certain number of goblins, or locating certain places, or delivering the mail. When a Deed is completed, the player earns either a Trait or a Title. Titles are just names for your character to use. Other players will see whichever Title you use, such as Brewmaster or Honorary Shiriff. Traits are bonuses to attributes, skills, resistances, etc. There are only a limited number of slots available for Traits, so each player will need to choose the Traits that are most useful to them.
PvP in the game is limited to a single location of the world, the Ettenmoors. It is here that you have PvMP (Player vs. Monster Player). At level 10, players can start playing as 5 different monsters within the Ettenmoors. Players choosing this option will start at the maximum level of 50 and will not level up, but will gain Destiny Points, by killing things and doing quests, to upgrade the monster's skills. Once a player's regular character gets to level 40, it can also enter the Ettenmoors to do battle against the Monsters and try to hold the various locations against the Monsters.
Gameplay is the same as other RPGs. Control is through the mouse or keyboard and players use weapons and magic that fits with the LOTR story. The camera can be rotated and tilted as well as zoomed out or all of the way in to first-person view. Armor and weapons change your appearance as well.
Spellings
Властелин Колец Онлайн: Тени Ангмара - Russian spelling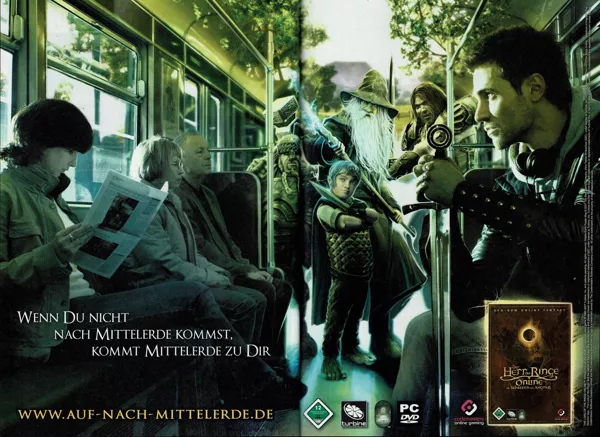 Credits (Windows version)
536 People (449 developers, 87 thanks) · View all
CEO
Executive Producer
Design Director
Game Systems Engineering Director
Art Director
Director of Audio, Video, and Visual FX
Senior Producer
International Associate Producer
Project Manager
Associate Producer
Live Producer
Art Manager
Animation Lead
Avatar Lead
UI Lead
Environment Lead
Art Team
[ full credits ]
Critics
Average score: 84% (based on 41 ratings)
Players
Average score: 4.1 out of 5 (based on 19 ratings with 2 reviews)
The Good

Tolkien setting
graphics
writing/quest descriptions
kinships/guilds
upgradeable legendary items and crafting
flexible purchasing/subscription model
The Bad
typical MMORPG combat
lack of impact on the game world
theme park-like experience
hackneyed main story
hard to form groups of players to journey with
The Bottom Line
I've been playing this game off and on now for almost six months. I have a level 60 Burglar and a level 35 Guardian on the Vilya server. Most of the time I've played as a "free-to-play" (F2P) player, but I also subbed for a few months. Right now I am a "Premium" player--a player who plays for free but at one time was a subscriber, and thus gets a few additional perks.
I cancelled my subscription and mainly continue to play due to the social aspects (I am in a "kinship" or guild) of the game, as well as to explore the Middle Earth setting. The environments are pretty, and it's nice to walk where Frodo might have once walked. Other than that, though, there is just a lot of grinding to get to the next level or complete the next quest; and as per most MMORPGs I haven't felt like I've made any real impact on the game world since everything respawns right away. Leveling is made easier, however, by the game's "Skirmish" system, which provides a quick way for players to get together or solo and gain XP and some decent items, and the main game "story" or plot, while hackneyed, gives the player a better sense of progress through the game.
I also find the combat unexciting as per nearly all MMORPGs unless you are able to find a group of players to fight along side. Actually finding a group of players is difficult however (on my server at least), unless you are playing one of the Skirmish or other popular instance dungeons and raids.
Overall, the game is an OK value since it can largely be played for free. The system of purchasing items from the game store is also pretty flexible, and there are several ways of acquiring the TP or "Turbine Points" used to buy items: earn them by completing "deeds" within the game; buy them online using a credit card; buy game cards at places like Gamestop or Best Buy; receive 500 TP as a monthly allowance with your paid VIP subscription.
Windows · by SharkD (424) · 2011
Satisfies any MMORPG gamer as well as Tolkien fans waiting for an online Middle Earth experience.

The Good
To start, let me preface by saying that even though I have been gaming for almost 2 decades now, in terms of the time I have to devote to gaming I am likely classified as a "casual" gamer, and thus this influences how I rate this game.
Additionally, references will be made to certain game elements that are well defined in the overview section for this game, so I will not elaborate on its function so much as how it affects the game.
That said, I will begin by stating that LOTRO is an excellent MMORPG for veteran gamers as well as those new to the genre. Besides the fact that the game is easy to learn and also quite engrossing, there are many elements of the design which lends itself to casual gamers as well as those who can invest many many hours of daily gametime.
An overview of the design elements which contribute to my opinion:
Missions/leveling that allows casual players to solo as well as rewarding those who group together in parties.

Story-based quests which truly engage the player into the Tolkien world and show that the developers spent time researching the details of Middle Earth. I definitely do not know most the details explained in Tolkien's appendices, but from what I do know the back story and themes feel right.
Additionally, each race begins the game in a unique way. For example, Hobbit characters start around the time Sam and Frodo leave the Shire, and you encounter characters and fictitious scenes which weave into that story. Elves, to demonstrate their immortality, begin play in the previous Age in their starter areas before passing time into the current Age.
The Deed system definitely encourages and rewards exploration (in addition to combat), and of course the excellent graphics allow you to enjoy exploring on its own.

MonsterPlay allows everyone to effectively try out another character type in addition to their main character(s). This saves casual gamers a lot of time as you gain Destiny when you play monsters that you can use to enhance your "good" character, so you don't feel you are losing time leveling your main character when choosing to play as a monster. Additionally, monsters are already maxed at level 50, it allows any gamer who hasn't reached that level yet to compete effectively in large player-vs-player (PVP) battles.
It should also be mentioned that MonsterPlay isn't only for mass PVP battles; they have their own story-based quests as well. Bonus: you can play as a warg, which is probably the first beast character for players in an MMORPG.
The artistic design is very pleasing. This was touched upon earlier, but just to reiterate the environments are all unique and convey very well ruins, forests, cities, hamlets, monster dens, etc. Additionally, the character designs are well done, and seem to have a lot of influence from the films -- i.e. Rangers in long coats, the look of Orcs and Nazgul, etc. This is interesting because LOTRO only has the license for the books and not the Jackson movie franchise (it's the usual convoluted story behind this, but that's another discussion), yet there is definitely an influence that makes the game that much more appealing to fans who were introduced to Tolkien through the movies.

The Bad
Unfortunately, no game is perfect and there a number of shortcomings, but none are of major significance.

Character visual uniqueness (or lack thereof) - even though players can equip themselves with all sorts of clothing/armor pieces, unfortunately they all end up looking the same. You'll probably run into difficulty recognizing your friends from the masses unless you are looking for their names.

The crafting system is a bit limiting. You can choose a crafting "profession" which has three predefined areas of skills, where, as noted in the game overview, one of them requires you to interact with other players to use (i.e. in acquiring the correct resource types for a crafting skill).
It seems the only reason the developers implemented this is to promote interaction. Ultimately it feels too contrived. Players who want to maximize their effectiveness will already be working together and specializing in this fashion. This design just seems to penalize those whose play style is solo oriented or doesn't want to spend the time to bid in an auction house or search for hours for someone to trade with you.
Many of the instance quests are extremely difficult even if you have a maximum size party you need some help from players who have advanced their character level to some range well beyond what the current Middle-Earth region you are in is designed for.
This is another paradoxical design. Why make these instances so difficult that you effectively cannot complete them unless you've moved on to another region of the world, when there's less incentive to return?

The Bottom Line
Even with it's faults, LOTRO is a fantastic online RPG. While it does not attempt any revolutionary gameplay ideas, it demonstrates that the designers have learned from other games as well as carefully studied gamer feedback to implement a solid game engine. What truly makes this a wonderful experience is very tight and well thought out integration of the Tolkien world.
Windows · by grimbergen (433) · 2007
Trivia
Monster Play
At the end of Closed Beta 2 and before Open Beta started, the developers went toe to toe with players in Monster Play. Developers entered PvMP (Player vs. Monster Player) as player characters (Peeps) and players were able to either join them as player characters, or attack them as monster characters (Creeps). This large battle lasted until the servers crashed.
Ownership
On 1st June 2011 developer Turbine took over full control of the game, from Codemasters.
Awards
Games for Windows Magazine

March 2008 - #10 Game of the Year in the 2007 PC Game Awards

GameSpy

2007 – #6 PC Game of the Year
2007 – PC MMO of the Year
2007 – Best Use of a License of the Year

Golden Joystick Awards

2007 - PC Game of the Year
Information also contributed by Riamus.
Contribute
Are you familiar with this game? Help document and preserve this entry in video game history!
Contributors to this Entry
Game added by Riamus.
Additional contributors: PCGamer77, Jeanne, Sciere, Sicarius, Klaster_1, Cantillon, Patrick Bregger, piltdown_man, Morbid MetalCrew.
Game added May 1st, 2007. Last modified July 16th, 2023.