Zybex is a horizontally scrolling shoot 'em up inspired by Side Arms and Nemesis/Gradius. The players took control of prisoners trying to win freedom from a galactic prison. At the end of each level they earned a crystal, opening access to the later levels of the game. The ultimate aim is to acquire the Zybex crystal which offers amnesty for the prisoners, Cassalana and Rinser.
There are 16 levels in total, with numbers 2-12 immediately available after completing the first - the player can go through them in any order. However, levels 13-16 are locked until the player earns enough crystals. Extra levels can be gained by scoring 10,000 points or collecting the floating suits which appear.
The weapon system is quite unique - the player constantly fires, and the fire button is simply used to change the current weapon. The basic weapon is the Orbiter, which the player always has. Picking up weapon icons increases the power of a weapon by 1 up to the maximum of power level 4. Dying reduces the current weapon by 1 power level, or loses it if the weapon is power 1 (with the exception of the Orbiter). As the weapons get more power, their fire rate becomes faster and the bullets stronger. The five weapons are Orbiter, 8-way (upgrades from 2 to 4 to 6 to 8 way fire), Railgun (powerful single bullet which gets longer) Pulse (fires straight forward and gains diagonal fire at power 3/4) and Wall (another forward fire, which gains size).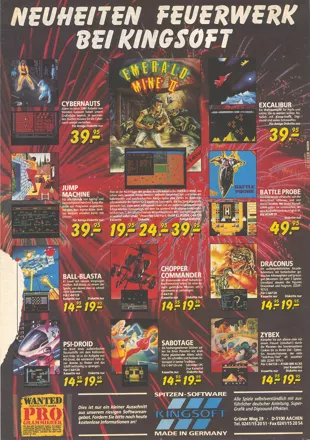 Credits (Commodore 64 version)
Critics
Average score: 75% (based on 8 ratings)
Players
Average score: 4.1 out of 5 (based on 10 ratings with 0 reviews)
Be the first to review this game!
Contribute
Are you familiar with this game? Help document and preserve this entry in video game history!
Contributors to this Entry
Game added by Andrew Fisher.
Atari 8-bit, ZX Spectrum added by Martin Smith.
Game added April 23rd, 2007. Last modified February 22nd, 2023.