In Meat Puppet, you play the role of Lotus Abstraction in a darkly futuristic post-apocalyptic world. Lotus responded to a personal add claiming "help wanted for nocturnal missions". These "missions" turn out to be a far cry from what Lotus expected! As Lotus, your main quest besides performing the occasional kill is to discover the identity of your employer, who has deigned not to reveal himself, and free yourself from his mafia-style employment agreement.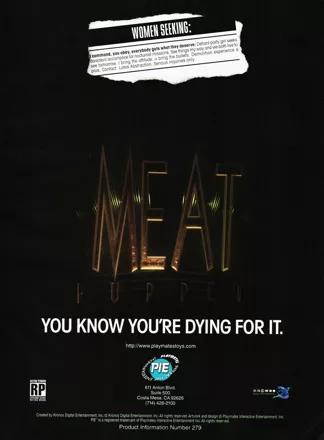 Credits (Windows version)
76 People (57 developers, 19 thanks) · View all
Dumaine
Aggregate Bodies, Eugenics Kids
Apex, Jonathan Guilt, Leonines
Emil Medamothi, Surgikill, Whipkeeper
Abomination, Chieftain, Cicero and Coronado
Lotos Abstraction
Body Actor, Lotos Abstraction
Characters Created by
Executive Producers
Executive Producer
Producer
Associate Producer
Marketing
QA Manager
Lead Tester
Testers
[ full credits ]
Critics
Average score: 57% (based on 15 ratings)
Players
Average score: 4.1 out of 5 (based on 4 ratings with 1 reviews)
Third-person isometric futuristic shooter

The Good
The graphics are stunning. The character movements (esp. that of Lotus) is very smooth and fluid. The environment creates a bleak atmosphere of what the future may be like. This made the scenery interesting to traverse. The sounds are also good, as is the music.

The Bad
The controls are very difficult to use. Moving with the mouse is preferable, but shooting enemies is very difficult. Also, the enemies are extremely stupid: you shoot one, and it takes another a while to notice. Also, there isn't really a lot of variety in terms of weapons, and each level is timed. This gives you less time to explore.

The Bottom Line
Not quite as good as Crusader, but very fun.
Windows · by willyum (1020) · 2001
Trivia
Comparison
When this game was first released, it was heavily compared to the Crusader games since it was an ultra-violent isometric game. However, the game's development was actually started before Crusader: No Remorse was released.
German index
On December 31, 1997, Meat Puppet was put on the infamous German index by the BPjS. For more information about what this means and to see a list of games sharing the same fate, take a look here: BPjS/BPjM indexed games.
Information also contributed by Xoleras
Contribute
Are you familiar with this game? Help document and preserve this entry in video game history!
Contributors to this Entry
Game added by Andrew Hartnett.
Additional contributors: Adam Baratz, Alaka.
Game added December 15th, 2000. Last modified August 26th, 2023.