The Inheritance: Panic in Las Vegas
aka: De Erfenis - Paniek in Las Vegas, Die Erbschaft: Panik in Las Vegas, L'Héritage: Panique à Las Vegas, Las Vegas
A shady character called Peter Stone receives a telegram from a notary telling that his rich aunt passed away in Las Vegas. With the included airplane ticket he must travel to meet the notary and arrange the details of the inheritance. The Inheritance: Panic in Las Vegas is a French adventure game, an early entry in the point-and-click sub-genre. The player moves a cursor in the screen with the ARROW KEYS, and interacts with objects by pressing the SPACE bar. A handbag in the right side serves as the inventory and can be minimized to an icon at the bottom. The game is divided in three loads. At the end of each load, the player receives a password for the next one:
►The first load is entitled "In the building", where the player must leave his apartment and go to the airport. The airplane leaves at 11:20, and this game section starts at 11:10. Besides this time limit, progress is further hindered by the other tenants that appear on each floor. They demand the return of borrowed goods. The player can search other apartments, steal money and threaten the other residents with weapons (this last option can lead to an instantaneous death).
►"At the airport" is the second load, where the player must embark on the airplane to Las Vegas. There are terrorists and other annoyances to be dealt with.
►The final load is called "In Las Vegas", where the player must find the notary, while raising some necessary money (a testament clause says that in order to inherit the money, Peter has to raise 1 million dollars by playing games at the casinos).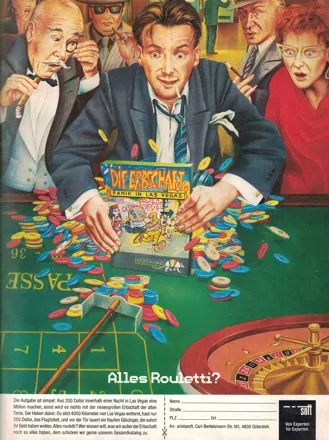 Credits (Thomson MO version)
Critics
Average score: 73% (based on 5 ratings)
Players
Average score: 1.6 out of 5 (based on 5 ratings with 0 reviews)
Be the first to review this game!
Related Sites +
CPC-Power (in French)
for Amstrad CPC: package material digitalizations; downloadable releases; advertisement digitalizations; manual digitalizations; additional material
MSX Generation
for MSX: package material digitalizations; additional material
World of Spectrum
for ZX Spectrum: cover art; downloadable releases; magazine references; magazine adverts; additional material
Contribute
Know about this game? Add your expertise to help preserve this entry in video game history!
Contributors to this Entry
Game added by Macs Black.
Thomson TO, Thomson MO added by Rola.
Additional contributors: Игги Друге, Rola, ZeTomes.
Game added May 24th, 2007. Last modified February 22nd, 2023.