Syndicate: American Revolt
aka: American Revolt: Syndicate Data Disk
American Revolt is an add-on pack to Syndicate. It requires the original game and includes 3 new weapons, 21 new single player missions, and 10 multiplayer missions.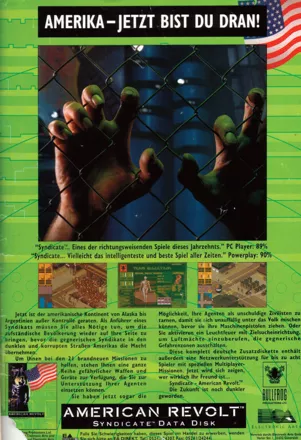 Credits (DOS version)
64 People · View all
Producer
Management
Assistant Producer
Programmers
Amiga Programming
Graphics
Level Design
Sound
Music
Intro Sequence by
Technical Support
Additional Support
[ full credits ]
Trivia
EA declined to release the Amiga version of the disk, as they were scaling down their Amiga releases, but Future Publishing's leading magazine Amiga Format picked up the rights and sold it through mail order. AF had ran a how-to-program guide written by Bullfrog in 1992 (the same one that was reused with slight changes by PC Format a year later), which probably explains the connections
Contribute
Know about this game? Add your expertise to help preserve this entry in video game history!