Full Spectrum Warrior: Ten Hammers
aka: FSW2, Full Spectrum Warrior 2
Moby ID: 28747
Full Spectrum Warrior: Ten Hammers is the successor of Full Spectrum Warrior.
Although you killed the tyrant of Zekistan in the first game, the situation hasn't improved. A civil war begins to unfold and various insurgencies fight against the Western forces. Even ethnic hostilities erupt in violence. So once again squads of US Light Infantry are send into the country to secure the Tien-Hamir (or "Ten Hammers") Province. But this time they can call upon the assistance of the British elements of the Coalition Forces.
Like in Full Spectrum Warrior you are the commander of two Fire Teams called Alpha and Bravo. But now you can brake down a Fire Team to a Buddy Team consisting of the Team Leader with the Automatic Rifleman and the Grenadier with the Rifleman. In some missions you also have now access to a Bradley Fighting Vehicle which you control just like you control a fire team. In some missions you'll also find tanks or APCs which your Fire Teams can enter and use.
You can now also give orders to a specific teammate. So if you want to breach a door, you order the Grenadier to unpack the rocket launcher and make a nice hole. It is also possible to give orders to the Fire Team you don't control right now.
Unlike the first game, Ten Hammers doesn't feature a separate tutorial but you rather learn how to play in the very first mission.
The twelve missions of the campaign feature several different objectives like reaching a convoy or destroy a street barrier. Since your squads can now enter buildings you have a whole new tactical layer to use against the many foes that hide in the shadows ready to kill you. To support this new feature, you can now also deploy a sniper in a building and activate the sniper mode in which you can take out the enemies one by one.
The multiplayer-mode also got updated and features now the ability to play cooperatively with four friends or do a few 2-on-2 objective based missions.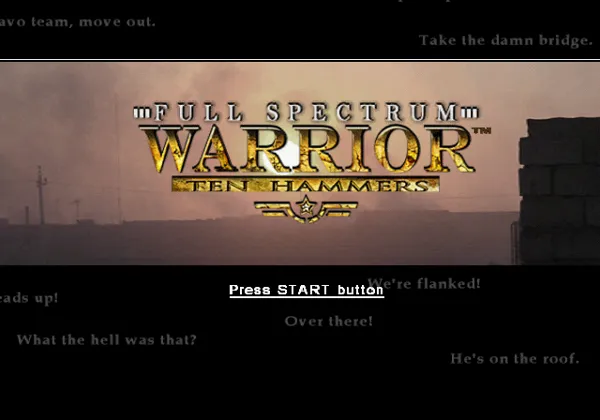 Credits (Windows version)
278 People (246 developers, 32 thanks) · View all
Director
Senior Producer
Lead Programmer
Art Director
Lead Designer
Lead Animator
Sound
Senior Programmers
Lead Gameplay Programmer
Programmers
Artists
[ full credits ]
Critics
Average score: 72% (based on 23 ratings)
Players
Average score: 3.5 out of 5 (based on 2 ratings with 0 reviews)
Be the first to review this game!
Trivia
German version
All blood and gore effects were removed in the German version.
Contribute
Are you familiar with this game? Help document and preserve this entry in video game history!
Contributors to this Entry
Game added by Sicarius.
PlayStation 3 added by Sciere.
Additional contributors: Patrick Bregger.
Game added June 25th, 2007. Last modified November 19th, 2023.