Savage Island
aka: Savage Island, Part I
Savage Island is the only multi-part game in Scott Adams' adventure series, all of which have a very similar parser and interface. At the completion of this game, players receive a password which allows part two to be played. The Savage Island games are also probably the most difficult adventures in the series!
The player begins trapped on a small remote island in the ocean, which is facing a hurricane and also has an active volcano. The player can cross a river, and will also need to explore a cave network. Items are often found by running through the sand with one's hands.
The island holds a great secret, which will not be discovered until both parts of the game have been completed.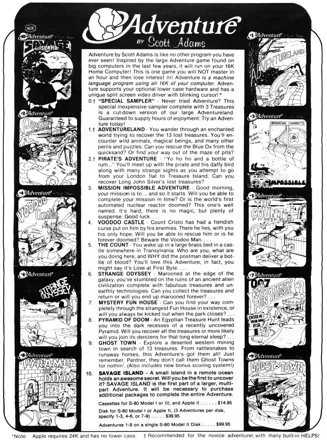 Credits (Apple II version)
Critics
Average score: 55% (based on 2 ratings)
Players
Average score: 2.5 out of 5 (based on 11 ratings with 0 reviews)
Be the first to review this game!
Contribute
Know about this game? Add your expertise to help preserve this entry in video game history!