Tapper
aka: Root Beer Tapper
Tapper is an action game where you're a beer tapper (barman) and have to serve beer to demanding customers. There are four customers, each has its own lane lengthier than the previous one, whom you have to keep at bay. If they reach the end of the lane without receiving their beer, you're a goner; if you miss one and accidentally spill beer needlessly you lose a life and should one of them throw you back the mug and you fail to catch it, you lose a life as well.
Occasionally a bizarre icon will appear on one of the lines and, should you grab it, will invoke a "cabarette"-style show which will keep some of the customers occupied.
The Xbox 360 version includes bonus rounds, as well as co-op and versus multiplayer modes, also online, along with achievements.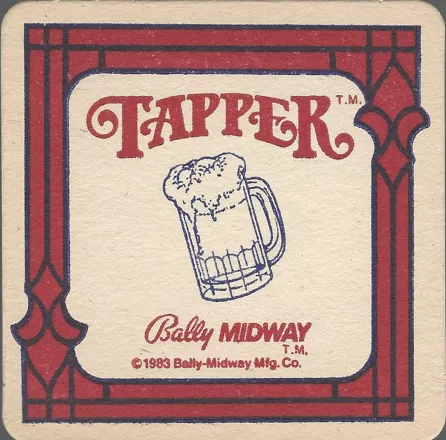 Credits (Arcade version)
5 People
Trivia
1001 Video Games
The Arcade version of Tapper appears in the book 1001 Video Games You Must Play Before You Die by General Editor Tony Mott.
How to Squeeze an Arcade Into Your 64
Tapper on the Commodore 64 appeared in an article by Julian Rignall in Zzap! (Issue 3 Jul 85 p80) about how accurate to the arcade original it came from. It scored 93%.
Movie appearance
Tapper is one of the games appearing in the Wreck-It Ralph movie. The bartender also has a small speaking role, and the bar seems to serve the same purposes for game characters as it would for people in the real world (drinking, chatting..).
Player character
The player character in this game is based on an employee of the game's designer (Marvin Glass) named Mike Ferris who had the same bald head, glasses and mustache, and always wore a red T-shirt. In the original coin-op versions, his T-shirt is in red. The same man is also found in some other Marvin Glass coin-ops: "Domino Man" and "Timber".
Product placement
The original arcade game featured references to Budweiser ingame, as well as on the cabinet. Most of the home conversions lack these, instead they feature Mountain Dew/Pepsi. Because of laws against advertising alcoholic beverages to minors, another arcade version was released called Root Beer Tapper. The game is the same, but you are a soda jerk in game and on the cabinet.
Awards
Zzap!

May 1985 (Issue 1) - #13 It's the Zzap! 64 Top 64!
Information also contributed by Tony Gies.
Contribute
Know about this game? Add your expertise to help preserve this entry in video game history!
Contributors to this Entry
Game added by Tomer Gabel.
Commodore 64 added by Quapil. BBC Micro added by fwibbler. Browser added by HelloMrKearns. Xbox 360 added by Matthias Günl. Palm OS added by Kabushi. Amstrad CPC, ZX Spectrum added by Martin Smith. Arcade added by Pseudo_Intellectual. Antstream added by lights out party. Atari 8-bit, Atari 2600, ColecoVision added by Servo. Apple II added by RodeoInTheGreatWhiteNorth.
Additional contributors: Olivier Masse, formercontrib, LepricahnsGold, Trypticon, FatherJack, Bart Smith, OmegaPC777.
Game added October 1st, 1999. Last modified May 1st, 2023.