(prices updated 9/18 8:24 PM )
Hour of Victory is a World War II-themed first-person shooter from nFusion, the guys responsible for the Deadly Dozen series.
Players are able to play each level as one of three character representing a different class: Taggert, a covert operative, specializing in stealth and sabotage who can hide in shadows to become mostly invisible and pick locks; Ross, a British commando of the guns-ablazing frontal assault type who can take more hits, and he can also push a few heavy objects around; or an Bull, an Army ranger who excels in sniping and demolitions and also carries a grappling hook for areas inaccessible to the other two classes.
Players can take control of any vehicle in levels that cover Europe and North Africa. The 360 version contains the multiplayer modes Team Deathmatch, Capture the Flag and Devastation.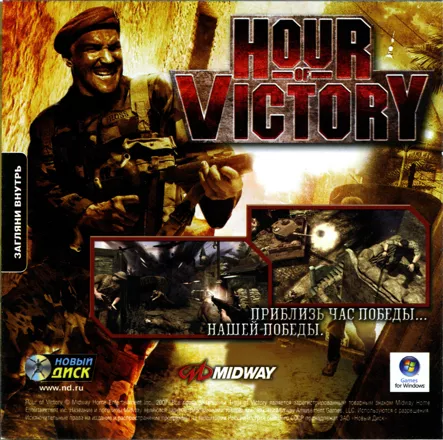 Credits (Xbox 360 version)
32 People · View all
Art / Project Director
Lead Programmer
Lead AI Programmer
Production Manager
Operations
Gameplay Programmer
Lead Level Designer
Level Designers
Animators
Artists
Writers
Office Manager
Play Testers
[ full credits ]
Critics
Average score: 41% (based on 41 ratings)
Players
Average score: 2.4 out of 5 (based on 10 ratings with 2 reviews)
I'd rather take part in a real war than playing this crap!

The Good
Well, the graphics are ok. And I'll give the developers some credit for putting in a great soundtrack while you play. Sadly that just isn't saying this game is great, not even good in the slightest.

The Bad
The gameplay is so unbalanced and unnatural, enemies will run in front of you practically letting you hit them. If you hit an enemy at a close range, you will hit them with the gun that you are holding and kill them in one hit. However, if you try shooting at them from a distance, it takes quite a few hits to kill them. I mean, of course they do wear some protection (helmet, vest, etc) but if one hit from the butt of your rifle(or any other weapon you're holding) then why can't 1 single shot from a bullet kill them? Lastly, Sometimes you have these annoying missions to deal with. Why am I saying this? Well in one of the missions, you have to meet up with this guy (I think he's British, judging from the accent) somewhere. The reason why this is annoying is because you don't know where he is. Don't worry, he'll keep on saying "OVER HERE!" or "OVER HERE, BOY!" just to remind you and FRUSTRATE YOU! Yeah, I'm sorry I didn't get through much of this game (did is say game? Sorry, I meant horrible, cheap, bug-infested abomination!)

The Bottom Line
Another thing that REALLY annoys up till this day is the fact that they are sill selling this thing in local game shops! The thing is, there should be a label on it saying " Don't buy this thing, it sucks!". The only thing comforting about this monstrosity is the fact many other people agree with me. I've shown them the game, told them all about it and guess what, they HATED it! They hated it as much as I hated it!
Windows · by Arejarn (7267) · 2008
The Good
The gameplay takes an interesting approach in which you can play the game in three different ways: By charging head on with Ross, taking out enemies from a distance with Blackbull or sneaking, taking shortcuts and assassinating with Taggert. When going for stealth with Taggert, there's no penalty for not being stealthy, other than to have more enemies to fight. No matter which character you play as, you're sure to find your way to the end of the level and meet your objectives, the more you play. The compass radar is particularly helpful in locating enemies, objectives and to measure the radius of noise you make.
Depending on which character you pick, you have at least one weapon which has its own advantages. There are a variety of great guns you can acquire. Thankfully any character is not restricted from using any weapon. And speaking of weapons, the game kind of mixes and matches with ammunition, which reloads as individual bullets in the case of the sniper rifle, shotgun and panzerschreck, while other guns reload in magazines. I guess this is realistic and takes some getting used to. Grenades fired with the middle mouse button actually work and never fire by accident, the biggest flaw COD2 could never overcome. Your mightiest weapon will be two instances in which you drive tanks, with that neat third-person perspective.
The Unreal Engine does allow for some cool effects like enemies flying and rolling when killed, as well as shooting their weapons while dying, which is reminiscent of special effects from Medal of Honor (PlayStation 1). But it does also have buggy and comic effects too, such as dead soldiers doing cartwheels and flips on the floor. Levels have enough detail and decor to make the locations believable. Castle Festunburg looks large and every room seems functional, it's like you're fighting your way inside a real castle that it's a reminder of that film "Where Eagles Dare". Music implemented in the game is borrowed from various albums, but very fitting for the levels and reminds you that you're in for a hell of a fight. Sound effects and voice talent are well chosen and complete the buildup of the game's levels.

The Bad
While the gameplay is good enough, the game itself doesn't always seem to know what it wants to be. Sometimes you play short levels and other times you play longer levels which lack desirable checkpoints, without the ability to save your game for the more tricky parts. Some might say that respawning enemies are an annoying issue in the game, except that this is pretty common in WW2 shooters. Adding to the difficulty of the game is that you must not move in order to heal. This is just an instance making the game a little too realistic, but then again no healing mechanics in a game are perfect.
One feature that didn't quite make it to the PC version are the compass directions, and missing from the radar are indications of objects' altitude, to let the player know if an enemy is above or below. Not all keyboard functions are mentioned even in the config menu, such as the melee button. The biggest glitch in the game that blows your top off is that NPCs right near you can walk right through you, which equals instant death. It's like a telefrag from DOOM, only much worse. And of course the presentation and plot feels kind of rushed, that we know very little about the three S.O. officers other than their names and skills.

The Bottom Line
So many FPS enthusiasts have called this game really bad, but I don't think they give merit where it is due. We all tend take the fast-paced run and gun style in the Call of Duty series for granted and turn down the slow-patient flow of stealth and pathfinding. But the effort put into this game by experienced developers ought to be recognised, seeing that a lot of the elements, if not all, exist in the common franchises, given what time and budget constraints went into the game's development. It's the way those elements were implemented, combined with the short length of the game, that didn't do this title justice. Nobody said that this game had to be based on real war events, seeing as Call of Duty is now straying from realism these days. The game pretty much rivals that of Commandos: Strike Force.
What really breaks this game is its declining availability due to its lack of compatibility without the use of certain Xbox Live files, so forget about multiplayer mode. Coming to terms with the existing problems, this isn't the worst WW2 action-shooter game in existence. There are far worse titles out there, such as the Battlestrike rail-shooters, the PSP Medal of Honor games and of course Call of Duty 2. This game is great on the outside, good on the inside, but bad in the middle. The multitude of negativity for this game doesn't seem like focusing on the game's elements, but more like people want to hate the game because earlier titles like Call of Duty are better, which gets out of hand. Game isn't perfect, just leave it at that. The company nFusion Interactive is still active and still has an opportunity to remake this game into something functional, better, with perhaps a map and mission editor, it's not too late.
Windows · by Kayburt (26157) · 2023
Trivia
Awards
Game Informer

January 2008 (Issue #77) - #5 in a Top 10 of Worst Games of 2007
Contribute
Know about this game? Add your expertise to help preserve this entry in video game history!