Muhammad Ali Heavyweight Boxing
Description
Muhammad Ali Heavyweight Boxing, as the name implies, is a boxing game featuring the three-time World Heavyweight Champion. The game display 2D sprite-drawn boxers in a 3D ring (the so-called "FreeCam" 3D system), with the boxers moving around the ring in 360°.
One or two players can choose the number of rounds (up to 15), the round length (up to 5 minutes), the number of times a fighter must be taken down to be T.K.O. and the number of referee counts (up to 10). There are two game modes: exhibition (which can be played against the computer or one-on-one by two players) and the tournament mode (single player). Players can choose among nine fictional fighters plus Muhammad Ali himself.
There are two control types: arcade and simulation. In the arcade mode, the d-pad moves the boxer around, while the A button is used for jabs, the B button for defense and the C button for hard punches. In this mode, the game decides which of the boxer's arms will be used for each punch. In the simulation mode, the d-pad moves the player around. By holding the A button (for the left arm) or C button (for the right arm), the player can perform head jabs (by pressing up in the D pad), body jabs (by pressing down), body hooks (by pressing left) and body hooks (by pressing right). Holding the B button, the player can cover up (by pressing up), duck (by pressing down), sway left (by pressing left) and sway right (by pressing right). By pressing A and B together, the boxer performs an uppercut.
Each fighter has a power and a speed bar. As they get tired by fighting or get hurt, the bars decrease. The lower the bars, the slower or weaker the punches get, until the boxer is knocked down. By defending himself a boxer can regain power or speed. There's also a counter of punches landed at each side of the screen. If the fight ends with no winner, the judges decision is made by those numbers alone, regardless of how many times the fighters were taken down during the fight.
The game features digitized speech, including samples of Ali's voice.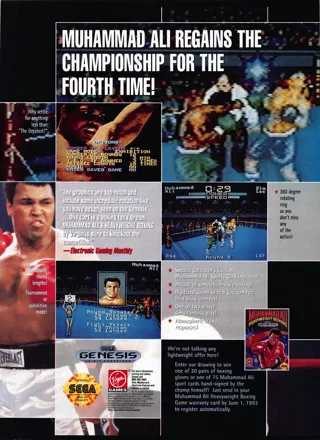 Credits (Genesis version)
22 People (21 developers, 1 thanks) · View all
Developed by
Published by
Design
Programming
Art Direction
Artists
Music
Sound Effects
Voice Effects
Concept
Producers
Executive Producer for Virgin Games
Models & Actors
[ full credits ]
Trivia
References
The fictional fighter Bruno Franko is a pun on the name of the real heavyweight boxer Frank Bruno.
Contribute
Know about this game? Add your expertise to help preserve this entry in video game history!