Street Combat
aka: Ranma 1/2: Chōnai Gekitō Hen
Description
Street Combat is a one-on-one 2D fighting game in which several martial artists, athletes and crime-fighters from all across the globe decide to compete against each other in a street fighting tournament for fame and glory.
Single player mode allows you to choose between two versions of the "hero" character (Steven) and then takes you through 7 best 2-out-of-3 matches against a collection of different martial artists. A 2-player Vs mode allows you to freely select any of the characters without restrictions.
Gameplay is similar to other one-on-one beat 'em ups, in which you control your characters movements and attacks in a scrolling 2D plane attempting to defeat your opponent with special moves (triggered by specific controller motions) and avoid his attacks.
Spellings
らんま1/2 町内激闘篇 - Japanese spelling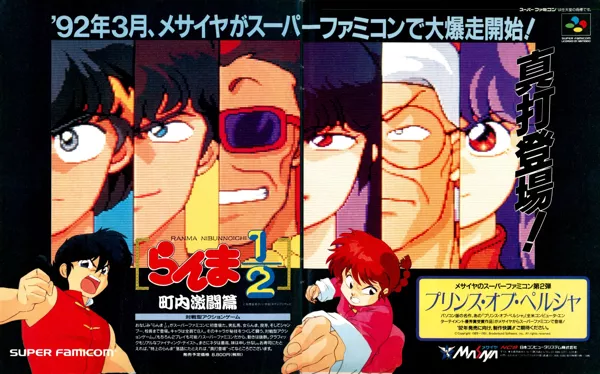 Credits (SNES version)
34 People (29 developers, 5 thanks) · View all
Critics
Average score: 37% (based on 4 ratings)
Players
Average score: 2.1 out of 5 (based on 7 ratings with 0 reviews)
Be the first to review this game!
Trivia
Localization
Street Combat is actually a localized version of Ranma 1/2: Chōnai Gekitō Hen, a fighting game based on the Ranma 1/2 manga series. As the story goes since anime culture hadn't made such a big splash in the western world yet, Irem decided to change all the graphics and assets.
Contribute
Are you familiar with this game? Help document and preserve this entry in video game history!