Project IGI: I'm Going In
aka: Project I.G.I, Project I.G.I: I'm Going In - L'intelligence reste votre meilleure arme, Project I.G.I: I'm Going In - Tested by the Military. Used by You.
Project: I'm Going In is a tactical shooter based on the Joint Strike Fighter 3d-engine. In the game, you are a special agent who has to complete missions all on his own, infiltrating bases with a fair number of enemies. Your overall goal is to locate a stolen nuclear device so that it can be recovered.
An assortment of weapons is in the game, including a sniper rifle, an AK-47, grenades and a rocket launcher to name a few.
In completing the missions you mostly have one goal: you should not be seen by the cameras or detected by a large group of the enemies at once so that you can complete the level. As soon as an intruder is detected, the enemies are alerted to your presence and the level gets quite difficult to finish. Since you can't save during the mission, you will have to start from the beginning if you don't complete it(i.e., getting killed).
Every mission starts with a little movie using the 3d engine introducing what the goals of the next mission is.
Most missions contain the same buildings and objects, so there's a strong deja-vu through the whole game.
Spellings
秘密潜入 - Chinese spelling (simplified)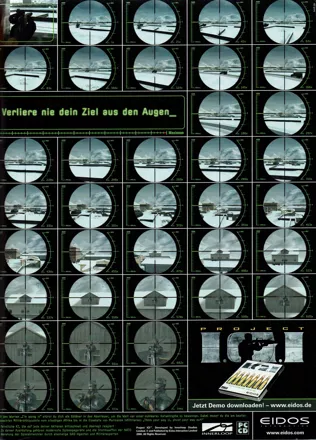 Credits (Windows version)
101 People (90 developers, 11 thanks) · View all
Trivia
Alternate Titles, all being used on different ways in magazines and on websites:
Project: IGI Project: I.G.I. I'm Going In
Contribute
Know about this game? Add your expertise to help preserve this entry in video game history!