African Raiders-01
Moby ID: 31969
Description
The game tries to represent the African part of the 11th Paris-Dakar rally route, which in the game takes place in Tunisia, Algeria, Niger, Burkina Faso, Mali, and Senegal in 1988-1989.
Controlling their car from a behind view, the player should drive through the marked path in Sahara. When a player loses their way, they may be in the sands alone and start to skid. In this situation, they may switch between the 4x4 and 4x2 modes of the car. These modes have their own opportunities and misses. The speed is limited to 87 in 4x4 mode and limited by the car's parameters in 4x2 mode. But in 4x4 mode path marks may stop the car, while in 4x2 mode the car may knock the path parks off. Switching the gear, the player may drive back and forth to avoid blocking the car either by path mark or by debris in the sand. The direction of the way is shown by compass as well as the length of traversed path and volume of residuary fuel are displayed by indicators.
Other drivers are present on the way, day and night, therefore they should be left behind to win in the rally. There are five stages with different visible horizons:
1) Tunis - In Salah (5726 Km);
2) Ouallene - Achegour (4353 Km);
3) Achegour - Niamey (4587 Km);
4) Ouagadougou - Bamako (4438 Km);
5) Bamako - Dakar (3622 Km).
So, you have to conquer the sands of Sahara, show good time on each stage, and be the first at the finish.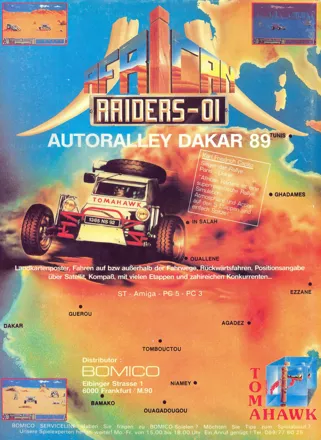 Credits (Atari ST version)
6 People
Critics
Average score: 60% (based on 9 ratings)
Players
Average score: 2.7 out of 5 (based on 9 ratings with 0 reviews)
Be the first to review this game!
Contribute
Are you familiar with this game? Help document and preserve this entry in video game history!
Contributors to this Entry
Game added by POMAH.
Additional contributors: Victor Vance.
Game added January 3rd, 2008. Last modified February 22nd, 2023.