3 Skulls of the Toltecs
aka: 3 Czaszki Tolteków, Las 3 calaveras de los toltecas, Le Trésor des Toltèques, Tři lebky Toltéků
Fenimore Fillmore happens to rescue an old peddler being attacked by some rustlers, but it is also him who accidentally leads the old man to his death by passing him the hair lotion. Just a few minutes before his death, the peddler revealed that he owned one of three skulls that will unlock the treasure of the Toltecs. Fenimore takes hold of the skull, but is then shot by the rustlers and passes out, with the skull going to the hands of the rustlers. When he regains consciousness, he sets out to recover all three and unearth the treasure himself. And of course, beside Fenimore, some other people are also searching for these skulls...
3 Skulls of the Toltecs is a 3rd person cartoon adventure game in the same vein as The Secret of Monkey Island. The interface is point-and-click, and the player is given a list of verbs to select from to perform actions: open, close, pick up/give, use, look, move, talk, similar to the LucasArts games it emulates. Once a certain portion of the territory has been covered a map becomes available for travel, or the player can ride the train tracks with a hand-pumped trolley or travel by donkey. Puzzles are inventory-based, and the player must talk to other characters in the game and collect items in order to solve them. In many conversations, players are given multiple choices of what Fenimore will respond. Players' choice largely affects their process in the game.
Spellings
3 черепа Тольтеков - Russian spelling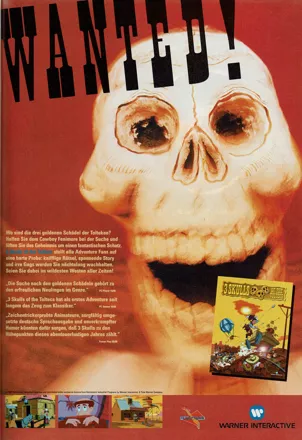 Credits (DOS version)
56 People · View all
Design
Paternal Supervision
Screenplay
Lead Programmer
Programmers
Lead Animation
Animation
Layout
Backgrounds
Character Design
Music
Sound Effects
Voice Testing
[ full credits ]
Critics
Average score: 68% (based on 16 ratings)
Players
Average score: 3.4 out of 5 (based on 23 ratings with 1 reviews)
After I finish writing this review, I'm going to take a siesta

The Good
3 Skull of the Toltecs sets the game in the year 1866 where a guy named Fenimore Fillmore drives off several gunmen trying to kill an old man in an attempt to snatch a valuable item from him. That item happens to be the golden skull, and there are two others like it in existence. It is said that whoever gets possession of all three would lead to the greatest treasures.
Anyone who has played games like The Secret of Monkey Island, Indiana Jones and the Fate of Atlantis, and Day of the Tentacle will immediately get used to the game. You perform actions by choosing a series of commands at the bottom of the screen. Because there are fewer commands this time, this means that there is more space for the graphics. The cursor which you move around is exactly like the one used in Maniac Mansion and Zak McKracken and the Alien Mindbenders, but only smaller. Fillmore carries a map around with him at all times, and he can never lose it. Although it is brown and looks a bit rough, it provides a means of getting to places quickly.
The graphics are hand-drawn and detailed, and match that Wild West setting that Revistronic intended. One thing that I liked to look at is the orange sky. It blends well with the setting, and no matter where you go, you can see the sky all the time except when you enter those colonial buildings, which are structured to look like those that are found in the real wild west. The Indian village also look good.
There are a lot of FMV sequences in the game and they provide excellent viewing. Most of them are humorous. The one sequence that I enjoyed watching was the introduction where it shows Fillmore making the mistake of giving an old man hair tonic instead of water. I like how the sound effects are similar to those that can be heard in various LucasArts games, and how the music reflects that of the Western setting.
The characters themselves have varied personalities. Some are kind and nice, some are grumpy, and some of them can be pissed off if you get in their way. During his adventure, Filmore has to converse with the Indians, which happen to be my favorite characters of the game. If there is one thing that I learned from playing this game, it is how to speak like an Indian, slowly and with broken English. Each characters' animation is smooth. The animation where Fillmore rides hie donkey is cute.
The puzzles in the game are not hard and should not take more than ten minutes to solve.. More often than not, you will find out what you need to solve the easy puzzles, but getting it is another puzzle. For example, you have to get a piano player out of the well and you have no tools to help you get him out. The obvious solution is to use a bucket, but someone just won't let you have it, so you need to distract him, or at least move the bucket so that it isn't directly in front of him.

The Bad
Actually, there is nothing that I can think of.

The Bottom Line
3 Skulls of the Toltecs has the interface that you can get used to quickly if you have played some of the Sierra and LucasArts games. The graphics resemble a Wild West setting, complete with orange sky and the most common buildings that you can enter, including the saloon and general store.
There are plenty of characters to talk to, some with different personalities. The puzzles are easy to solve and can take no more than ten minutes. Anyone who is a fan of Sierra and LucasArts can't go wrong with 3 Skulls.
DOS · by Katakis | カタキス (43051) · 2007
Trivia
Fenimore Fillmore
Fenimore Fillmore is ambidextrous - at least the one featured in this game.
Inaccuracies
In the Indian village, during the conversation, the Indian chief quotes Fenimore's saying as: "Young paleface speaks like witch-doctor". It is an error since "witch-doctor" is the word referring to the person curing people with magic among Africans, not Native Americans. The correct word must be "medicine man".
References
In the Indian Village, inside the tent on the far left side of the village where an Apache guards and won't let you in until you give him a "Nyaca Nyaca", you will be requested to smoke the pipe of peace. When people in the tent take turn to smoke, a warning will appear: "The authorities warn that tobacco can seriously harm your health."
Windows version
The Window version is very hard to find nowadays and some of the rare copies were sold in the past for several hundred dollars on Ebay. The price is still increasing and there are currently (as of 2018) on sealed versions of the game available on Amazon for $6,449 and used versions for $999.
Related Sites +
Game Nostalgia
Provides extensive background info for 3 Skulls of the Toltecs, examples of voice-overs, credits, details about the game, all musical themes, shots of every location in the game, saved games, a list of reviews and tech specs.
Walkthrough
You need to resolve the puzzle, don't you?
Contribute
Know about this game? Add your expertise to help preserve this entry in video game history!
Contributors to this Entry
Game added by Istari.
Windows, DOS added by Trixter.
Additional contributors: Jeanne, Grov, forero99, JRK, lobo rojo, martin jurgens, Klaster_1, Patrick Bregger, Fingon, Tien Thuy Le Nguyen, Jan Novy.
Game added February 7th, 2001. Last modified February 22nd, 2023.