This version of Taz-Mania is different from the side-scrolling versions by Sega, in this version the player controls Taz from a third-person perspective. The goal of the game is to travel down the road, collecting Kiwi's before the timer runs out, avoiding obstacles along the way. The Kiwi's will get harder to catch as the game goes on, jumping over Taz and actually outrunning him at times.
Some obstacles Taz faces are trees, telephone poles, tour buses, even pterodactyls who will bring Taz back at the beginning of the level, but also have to avoid characters such as Axl & Bull, a pair of gators who try to capture Taz for the zoo, The She-Devil who is in love with Taz and if the player is caught by her, the game is instantly over and Wendal T. Wolf, who will jump on Taz's back and cover the screen with his hands making it hard to see.
You can avoid some obstacles by using Taz's tornado spin, but using the spin will cause Taz's health meter to drop, but it can be refilled by eating Kiwi's along with blue and red birds, bushrats and items thrown to Taz by Didgeri Dingo, but beware, he can also throw obstacles at Taz as well including T.N.T. There is also a bonus stages after completing three levels in which you collect as many items you can in the allotted time to raise the score.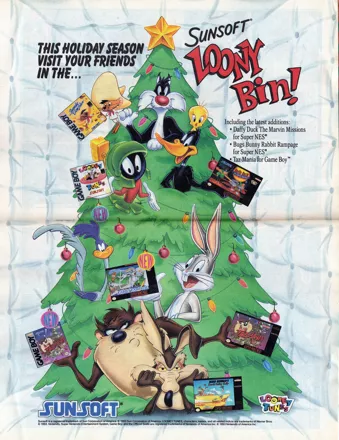 Credits (SNES version)
37 People (22 developers, 15 thanks) · View all
Developed by
Designed by
Programmed by
Produced by
Lead Artist
Artwork
Additional Artwork
Original Sound by
Original Music by
Additional Sound
Sound and Music Drivers
Special Technical Assistance
3-D System Design
Additional Design
Executive Producer
Special Thanks
[ full credits ]
Critics
Average score: 70% (based on 10 ratings)
Players
Average score: 3.2 out of 5 (based on 12 ratings with 1 reviews)
Sort of Like "Wacky Races", you know, minus the fun...

The Good
The Wacky Races was a fun, Hanna-Barbera cartoon film and TV series featuring a whole bunch of familiar characters attempting to win a race.
This is relevant to this review, because one of my first thoughts about Taz-Mania was that it was trying to channel the Wacky Races (even through characters from Hanna-Barbera and the WB did not often date)
The Super Nintendo is capable of some nice colorful graphics, and in this case the video game Taz certainly looks like his classic, cartoon counterpart.

The Bad
The developers of this game decided to allow the player to control Taz from a from a third-person perspective, not unlike a driving video game.
However, instead of driving around in a car, Taz gets to speed walk on the open road, avoiding (just about) everything in sight, while trying to grab enough Kiwi's before the timer runs out.
Just about everything you see in the game wants to hurt you, kill you or drag you back to the beginning of the level. How anyone could have thought that this would be a fun idea for a video game based on a popular cartoon character is beyond me.
So, we got the "instant-death" female stalker, the prehistoric bird that drops you back at the start of the level, and the idiot who makes large hands appear on-screen.
Anything else? Well, you also get to avoid being hit by telephone polls, cars, trucks, water, oil spills, etc. I half expected to see some deadly blades of grass.
But surely, the cartoon devil has a few, cool tricks up his sleeves, right? Well, not so much in this game.
Using Taz's tornado spin will cause his health meter to drop, basically bringing your close to death. That is pretty much his only form of defense and it does not always seem to work.
Yes, you can collect special kind of shoes on your walking, road trip. These items can help you go faster, although that is not always useful.
Remember that you are basically stuck, speed walking on a race track. Just about everything on-screen hurts your, kills you or ruins any chance of beating the level.
Yes, one of the cartoon characters on the road trip will sometimes toss you something you can eat, which restores your health. However, this helpful character is just as likely to toss you some T.N.T, which is not very helpful or healthy for a cartoon animal.
If you do stick around for the game's 19 speed-walking levels, you are given a cheap ending.

The Bottom Line
Taz-Mania for the Super Nintendo looks nice and colorful, with plenty of nice animation for Taz and the various enemies and obstacles in the game. It is not a particularly fun game to play, unless you really like the type of racing games that involve you speed-walking on the track.
SNES · by ETJB (428) · 2014
Contribute
Are you familiar with this game? Help document and preserve this entry in video game history!
Contributors to this Entry
Game added by Big John WV.
Game added June 13th, 2008. Last modified February 22nd, 2023.