Caverns of Callisto
Moby ID: 34530
You are an astronaut on the moon of Callisto and mutants have stolen the panels from your spaceship along with its ion drive. You must explore the caverns of Callisto, recover all the panels, find the ion drive and escape alive.
This is a fast paced arcade shooter, in which you fly on your jet-pack through the maze-like caverns, avoiding all the aliens and attempting to find your missing ship parts. Your jet-pack has a limited amount of fuel which must also be collected on your way around. You are equipped with a unlimited ammo gun which kills all aliens in one hit, but this overheats if used too much, leaving you temporarily defenceless.
The game is divided into 5 sections each of which contains 8 missing panels, and either a key to get to the next level or the missing ion drive.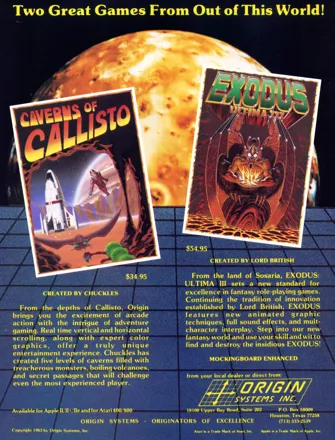 Credits (Apple II version)
Players
Average score: 2.9 out of 5 (based on 2 ratings with 1 reviews)
The Good
The game is very fast paced and the mutants come thick and fast. There is no time to get bored and there are a large variety of aliens, which increase with every level.
The game came with a map of the caverns, which is more or less essential to tracking down all the panels. This adds another element to the arcade gameplay as you always need to keep track of where you have searched.

The Bad
The graphics aren't the greatest even for 1983. While the aliens themselves look OK, the scenery is made up entirely of straight horizontal lines with large gaps between them.
Its extremely difficult to aim. When you fly forward you face down and shoot the ground, when reversing you shoot upwards. Flying backwards does not make you turn around either. To do this, you have to level off, press alt-fire, then fly in the direction you wish to face.
All the aliens disappear when they go off screen. Combined with the difficult aiming, this means the best way to get past aliens is usually to either avoid them, or fly away just far enough to get them off screen and come back. I pretty much played through the whole game without firing my gun. This is not to say that the game is easy, I had the massive advantage of playing this on an emulator and using save-states. There is no facility to save in the original game and it took me well over an hour to play through to the end.

The Bottom Line
I enjoyed playing this game 25 years after its release but there isn't really anything to recommend it above countless other arcade games from the same era.
Apple II · by Pix (1172) · 2008
Contribute
Are you familiar with this game? Help document and preserve this entry in video game history!