Wario Land: Shake It!
aka: Wario Land Shake, Wario Land: The Shake Dimension
In Wario Land: Shake It!, Wario is given a globe, but this is no ordinary globe; it contains a hidden world called the Shake Dimension. This world is populated by the Merfles, who are ruled by Queen Merelda. When the Shake King takes over the Shake Dimension and kidnaps the queen and all but one of the Merfles, Wario is asked by the remaining Merfle to rescue the queen and the captured Merfles and to defeat the evil king. Of course, Wario could care less about the queen and her subjects, but when he hears that the Shake King possesses the Bottomless Coin Sack, which contains an infinite amount of coins, Wario agrees to take on the king to get the loot and save the queen along the way.
The game plays very similarly to previous Wario Land games; Wario progresses through each level while collecting coins and defeating enemies. But the game is different in other ways. For instance, players shake the Wii Remote without holding an enemy to punch the ground. While holding an enemy, the Wii Remote is shaken to shake enemies to get garlic to refill hearts and coin sacks to receive money. Wario can also throw things, including enemies, by tilting the Wii Remote in the direction the player wants to aim them. Special treasures can be collected in each level. Players must find imprisoned Merfles in each level; when a Merfle is found and released, a countdown starts to return to the beginning of the level. There is a boss at the end of each area. Any level can be revisited to complete missions; these missions consist of anything ranging from gathering so many coins to escaping a level after saving a Merfle under a certain time.
Spellings
ワリオランドシェイク - Japanese spelling
와리오랜드 셰이킹 - Korean spelling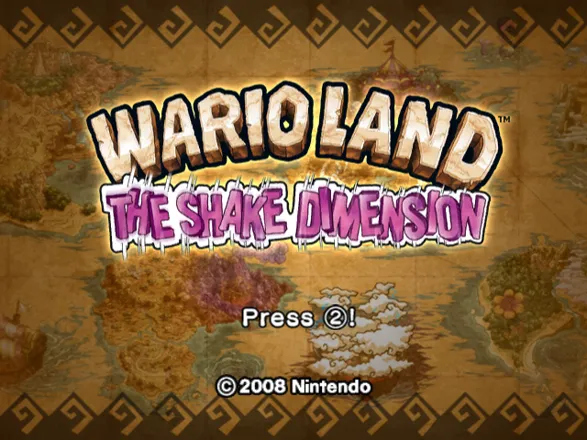 Credits (Wii version)
124 People (122 developers, 2 thanks) · View all
Director
Assistant Director
Planning
Program Director
Programming
Design Director
Design
[ full credits ]
Trivia
Awards
GameSpy

2008 – #10 Wii Game of the Year
2008 – Wii Platformer of the Year
Contribute
Know about this game? Add your expertise to help preserve this entry in video game history!