BattleTanx: Global Assault
aka: BattleTanx 2: Global Assault
Moby ID: 3669
The year is 2049. A nuclear holocaust has caused 99.9% of the women in the entire world to die out, leaving mankind desperate to search for women for reproduction. Instinct has taken over, and the only rule is mob rule. There is no form of government, form of justice, and the only way to survive is lookout for yourself. Mobs and warlords have emerged trying to claim the world's last surviving women.
In the midst of the chaos, Griffin and Madison escape back to San Francisco with their new baby boy Brandon, where they hope to rebuild a better society. However, the evil QueenLord, Cassandra, captures him. Cassandra leads Griffin and Madison all across America and Europe in a frantic search for Brandon, who may have psychic abilities that can save the world.
Global Assault is the sequel to the original BattleTanx. It features many new weapons, new vehicles, and new powers that were not available in the original. Global Assault now also features a destructible environment, allowing you to seize control of the environment and create ultimate destruction. Global Assault allows two players to play together in co-operative mode, or four players to go head-to-head as one of the dozens of tank gangs in all new maps and many more game modes.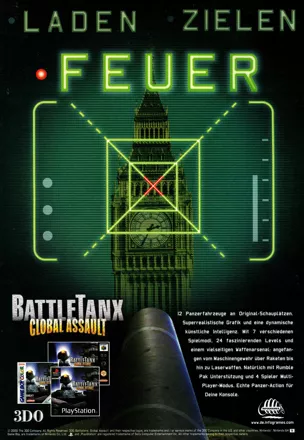 Credits (Nintendo 64 version)
40 People (37 developers, 3 thanks) · View all
Technical Director
Creative Director
Art Director
Producer
Programmers
Lead Artist
Artists
Additional Art
Designers
[ full credits ]
Critics
Average score: 67% (based on 20 ratings)
Players
Average score: 3.2 out of 5 (based on 22 ratings with 1 reviews)
The Good
The concept is cool and could have been more fun.

The Bad
Graphics are lame even for PS1. The controls are the biggest problem. The mechanics of the tank move so slow that it's hard to get turned around. The PS1's D-Pad just doesn't work for this game.

The Bottom Line
I played the PS1 version and it was not good. Try the N64 version
PlayStation · by Robert Lohr (11) · 2015
Trivia
Historical connections
In the Iliad by Homer, which tells of the Trojan War, there was a princess of Troy named Cassandra, who was the daughter of King Priam and Queen Hecubah. The god Apollo gave her the gift of prophesy, but because she turned down his romantic advances, he then cursed her so that no one would ever listen to her prophesies, even though they would have saved many lives and were always correct.
The evil nemesis Cassandra in the game is a similar figure of mystic power, in this case a charismatic cult leader with many fanatical followers, who by the time of the second game has achieved total domination over all of Europe. One might even say that this too is significant because Greece is part of Europe -- and it should also be remembered that at the end of the first BattleTanx game, she was resuscitated from near-death by a cult member who committed suicide in order to somehow give Cassandra his life force.
Indeed, one might even interpret the protagonist Battle Lord Griffin Spade and his wife Madison as figures similar to King Arthur and Queen Guinevere, while interpreting Cassandra as similar to Arthur's evil sister, Morgan LeFay. This would especially make sense because Cassandra is like Morgan in her enormous sensual beauty, magnetic and seductive personality, and her access to something like Satanic magic.
Contribute
Are you familiar with this game? Help document and preserve this entry in video game history!