Resident Evil: Survivor
aka: Biohazard: Gun Survivor, 惡靈古堡:生存遊戲
A man wearing white, a crashed helicopter, a pair of dog tags with the name 'Ark Thompson', and a pistol. These are the only clues a young man finds to his identity as he awakes on Sheena Island. On his journey through the island he will encounter many monsters as well as discover the terrible secrets of Umbrella's biological weapons programs.
Resident Evil: Survivor is set several months after Resident Evil 2 & 3 and is the first Resident Evil title to be rendered in real time as opposed to making use of pre-rendered backdrops. Levels are explored in first person, and when enemies are encountered the press of a button will bring up a targeting reticule for shooting. As with most light-gun games there is infinite pistol ammunition available, but limited ammunition for more powerful weapons. At the end of each level two doors are presented which both lead to different levels, although all paths eventually lead to the same ending.
Spellings
バイオハザード ガンサバイバー - Japanese spelling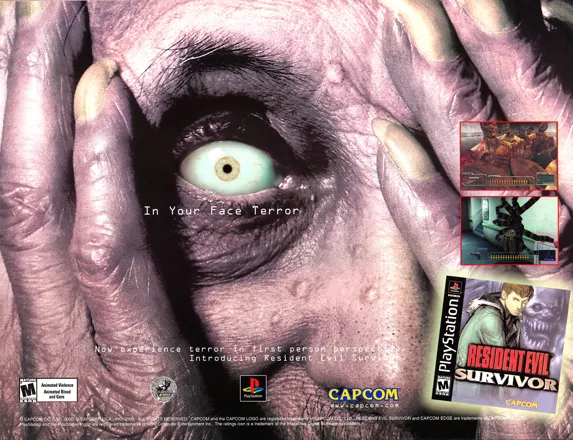 Credits (PlayStation version)
101 People (79 developers, 22 thanks) · View all
Eidos UK Mastering
Quality Assurance (Eidos)
Director
System Plan
Scenario
CG Modeling
Motion Design
Texture Design
Graphic Design
[ full credits ]
Trivia
Unlike the Japanese and the European versions, the North American release does not support the Namco GunCon peripheral.
Contribute
Know about this game? Add your expertise to help preserve this entry in video game history!