Resident Evil: Survivor
aka: Biohazard: Gun Survivor
(prices updated 10/4 4:14 AM )
A man wearing white, a crashed helicopter, a pair of dog tags with the name 'Ark Thompson', and a pistol. These are the only clues a young man finds to his identity as he awakes on Sheena Island. On his journey through the island he will encounter many monsters as well as discover the terrible secrets of Umbrella's biological weapons programs.
Resident Evil: Survivor is set several months after Resident Evil 2 & 3 and is the first Resident Evil title to be rendered in real time as opposed to making use of pre-rendered backdrops. Levels are explored in first person, and when enemies are encountered the press of a button will bring up a targeting reticule for shooting. As with most light-gun games there is infinite pistol ammunition available, but limited ammunition for more powerful weapons. At the end of each level two doors are presented which both lead to different levels, although all paths eventually lead to the same ending.
Spellings
バイオハザード ガンサバイバー - Japanese spelling
惡靈古堡:生存遊戲 - Traditional Chinese spelling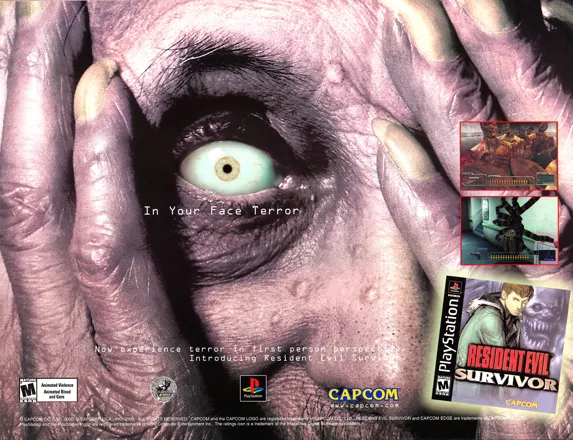 Credits (PlayStation version)
101 People (79 developers, 22 thanks) · View all
Eidos UK Mastering
Quality Assurance (Eidos)
Director
System Plan
Scenario
CG Modeling
Motion Design
Texture Design
Graphic Design
[ full credits ]
Critics
Average score: 47% (based on 23 ratings)
Players
Average score: 3.0 out of 5 (based on 45 ratings with 4 reviews)
Not great, but the problems have been exaggerated.

The Good
Since it's inception, the Survivor series has been about giving Resident Evil fans a different perspective on the action. Trying to shake things up while still staying true to the established formula's of the series. While it is by no means a perfect experience the Survivor series does a good job of providing something different, while not compromising too much.
In Survivor you play an Agent who survives a Helicopter crash with amnesia. You bear a striking resemblance to a certain individual native to this island and as the game goes on certain details pertaining to your identity are revealed. The storyline is unique in the sense that for the first time you're not simply some sort of rambo-esque Special Forces member or spunky biker chick. You're just a regular guy (sort of) who is trying to survive your own personal hell.
Graphically Survivor is solid. From a first person perspective everything had to be detailed and Capcom did a good job of providing a solid 3D engine although you the exterior's suffer from lack of detail in comparison to interiors like the Kitchen, Arcade and Home which all feature minor, incidental details that I appreciate in a First Person game. Human character models are quite good, with zombies and hunters suffering no less detail than their counter parts in the main canon of the series.
Survivor's gameplay is considerably unique. While the menu system from the main series more or less carries over there is less of an emphasis on puzzling solving and more on action. The emphasis on action is a nice change from the desperate feel of the primary survival horror main series and this is what Survivor is about, supplying an alternative. Using a G-Con to control the action takes a little getting used to however once you get used to using the tiny little D-Pad the fluency of firing using the light gun cannot be denied, it feels great when you get it down.

The Bad
Story wise Survivor is simply another amnesia story. It's a lazy plot device that has been around for years which people use when they lack a truly original idea. The Children aren't explored enough, they could have been interesting characters or even puzzle elements however they serve simply as a method of corralling you along.
Puzzles are virtually non existent in Survivor. The only real puzzles you'll find in the game are finding out which key goes to which door. Speaking of key's they couldn't have been more obviously placed. You'll walk into a room and all of a sudden a giant floating key will virtually poke you in the eyes.
Exterior locations lack detail and although some enemies such as regular Zombies look great they lack animation and enemies such as the Mr. X look like crap and like the Zombies, animate statically.
The game is short and lacks replay value. For a Resident Evil game to lack replay value is very lazy. Capcom did not put enough effort into the longevity of this title and it shows.

The Bottom Line
Survivor is the black sheep of the Resident Evil series. It is by no means a bad game harbouring a genuiely enjoyable experience that was built from the ground up to be different from the rest of the canon. While it looks good in places, plays great and features interesting gameplay Survivor smacks of a lack of originality, a serious lack of replay value and a longevity problem. Without a G-Con you don't get the same experience and even with the G-Con movement can sometimes be a painful exercise. I'd say this is a game worth owning, you will want to replay it, but don't expect to call this your favourite Resident Evil.
PlayStation · by AkibaTechno (238) · 2010
A Quick way for Capcom to make a buck...

The Good
The game system is unique. It was a total awkward step in the Resident Evil series. Nearly every monster from the Resident Evil series is in this game,even Tyrant and Mr.X. The weapons in this game are somewhat nice. But don't be fooled by the cover...

The Bad
The game's story line is ok,but compared to the other Resident Evil story lines,this one comes in last place. The horrible voice acting returns in this installment. The character graphics are blocky and the cutscenes sometimes freezes because the environment. Capcom really should have scrapped this game. The game is fun for the 1st 20 minutes. Then you find yourself doing the same thing over and over again. Shooting zombies and finding keys and the process repeats for the rest of the game. The controls really add on to the negativity of this game.

The Bottom Line
Capcom disgust me at times because of their quick games they release to make quick bucks.. This game is definitely in the top 5 of the worst Capcom games released..
PlayStation · by TwoDividedByZero (114) · 2010
Resident Evil never looked so bad.

The Good
This Resident Evil title is played out from the 1st person and is entirely in 3d. The viewpoint makes you feel quite claustrophobic at times and since all the favorite terrors are back again, you can expect quite a few shocks. The game has many different paths to play through and although it'd damn well want to (more on that later) it's a nice addition. Visuals in some places are fairly good for a PSX and the music at times is quite nice.

The Bad
Controlling this game is very fiddly because of the gun support. Either with or without a gun, it's a pain. The story and acting are truly awful and the music has the annoying tendency to become a kind of boppy techno beat during action scenes that's more akin to ridge racer than RE. The monsters look pretty bad and are animated poorly too, often causing the game to slow down when more than one of them appear on screen at once. The game is also very short and easy, I finished the whole thing on my 2nd go and did it in under an hour and a half. The puzzle aspect has been pretty much wiped out and infuriatingly there are no save points. You are FORCED to sit in front of this game from beginning to end.

The Bottom Line
Resident Evil is what you'd call a quality horror series. Sadly this game is the only exception. It's worth a look if you're a RE nut who has to see everything but anyone else should avoid this one and get any of the other RE games instead.
PlayStation · by Sycada (177) · 2001
Trivia
Unlike the Japanese and the European versions, the North American release does not support the Namco GunCon peripheral.
Contribute
Are you familiar with this game? Help document and preserve this entry in video game history!