Harvest Moon DS: Island of Happiness
aka: Bokujou Monogatari: Kimi to Sodatsu Shima, Harvest Moon DS: Mein Inselparadies
Description
Harvest Moon: Island of Happiness is the fourth installment of the Harvest Moon series on the DS. This version has the player take control of either two main characters, Mark or Chelsea, who are shipwrecked on an island that was once inhabited, but has since been deserted. Along with fellow survivors of the shipwreck, the player must bring life back to the island by building a farm and encouraging people from outside to move to the island.
The gameplay consists of using either the stylus pen or the d-pad and face buttons to equip tools and items. Players can raise livestock such as cows, chickens, sheep among others. A dog and a horse can be unlocked later in the game by completing certain achievements and can be used for special purposes: the dog is used to protect livestock while the horse is used for transportation and used for farm work.
Once the player gets their farm up and running more people will start to arrive to the island, setting up shops where the player can purchase more items and equipment as well as meet new friends. Players can also marry from six different bachelors or bachelorettes once the game is half-way complete, allowing new items and objectives to be unlocked.
There is also Wi-Fi capabilities where players can have their game ranked on a worldwide leaderboard as well as chat with fellow gamers through the DS' microphone.
Spellings
牧場物語 キミと育つ島 - Japanese spelling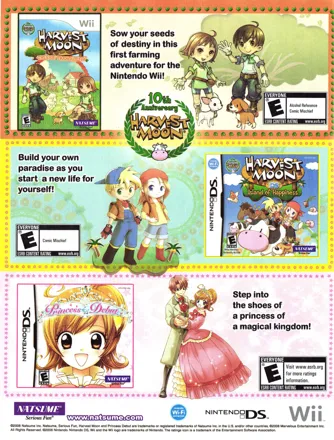 Credits (Nintendo DS version)
71 People (64 developers, 7 thanks) · View all
Coordinators
2D Graphic Artists
3D Graphic Artists
Programmers
[ full credits ]
Critics
Average score: 63% (based on 14 ratings)
Players
Average score: 3.3 out of 5 (based on 7 ratings with 1 reviews)
Harvest Moon Island Of Happiness.; Fun for all!

The Good
The basic storyline of this game is quite simple, as it is in most of the other Harvest Moon's as well. Instead of inheriting your grandfather/fathers farm like in the earlier games, you board a boat for a new life at an Island. A storm hits, and you wash up on a deserted islands shore with four others. The aspect of this game is to revive the abandoned island to it's former glory, and it's completely up to you to do so! As in all Harvest Moon's, you have your own farm land to grow crops, have livestock, poultry, and such. The crop system in this game is vastly different from the ones before because it took into consideration how much sun and water the plants were supposed to have. If you over watered a plant, it would end up dying. I liked that aspect because it made it seem more realistic.
Also, like in most of the Harvest Moon's before it, a big part of the game is wooing and getting married ! There are quite a few people to choose from this time around, Although you have to unlock most of them. There are requirements to getting married as well, but they are not very difficult. You can also have a child after you get married.
The main part of this game is earning money to revitalize the Island, you must pay for everything from bridges, to repairing roads. The bridges unlock new areas like a forest, jungle, and the meadow where all the festivals are held. I personally loved the festivals in this game, they were very fun and plentiful. On your main screen of the game, you can see the percentage of how much the Island is growing. There are villagers to unlock, and even sub villagers to unlock! This game is one of the most challenging Harvest Moon's to date!
The controls are alright, you do almost everything with the stylus with the exception of tool usage, which you can use the + button. Some people may not like the total use of the stylus, so I felt it was important to mention it here.

The Bad
There wasn't much bad about this game, to be honest. It did get boring and slightly tedious after awhile, but that was to be expected. I also disliked the animal petting/milking/shearing mini games, after awhile I didn't want to do those anymore. The festivals were fun, but you didn't really get to do much except for a simple contest or such. The graphics were okay for Nintendo DS, and were a great improvement from Harvest Moon DS and DS Cute. The game is very long, which I wasn't really that fond of. I'm currently in my third year and I have no more than 50% growth. Some people may like the length, but I do not. I also didn't like how the characters 'teleport' from one area to another. Also, fishing was a horrible task because more often than not the fish would get away.

The Bottom Line
This game will get you addicted, and keep you playing for a long time! I recommend that you purchase this game and see for yourself if you'll enjoy this wonderful game.
I give it 7 and 1/2 stars out of 10.
Nintendo DS · by Kristina Wright (3) · 2010
Contribute
Are you familiar with this game? Help document and preserve this entry in video game history!
Contributors to this Entry
Game added by Big John WV.
Additional contributors: Wizo, Fred VT.
Game added November 22nd, 2008. Last modified February 28th, 2023.