Deathkeep is a first-person perspective single-player role-playing game with a touch of medieval AD&D gameplay in a full 3D environment.
Apparently, another hero is stuck in an underground cavern crawling with monsters. This time they have to defeat an evil Necromancer located somewhere in the lower levels. To get to him they have to fight through 25 dungeons (every 8 floors) filled with horrific monsters who never heard of dental care.
Three different characters can be chosen as the hero:
Dwarven male Fighter

Half-Elven male Fighter

Elven female Mage
These classes offer different combat capabilities:
The Dwarven Fighter focuses more on melee close combat with minimal (axe-throwing) ranged and almost no magical capabilities.
The Half-elven Fighter, or more precisely Ranger, focuses on non-magical ranged combat with his favorite bow. Possesses medium melee combat capabilities and some magical capabilities.
The Elven Mage focuses all her might on magical offense and defense. Spells may be found or learned as experience grows. Don't get too close to the enemy since a walking stick doesn't do much damage to bloodthirsty monsters!
Gameplay consists mostly of adventuring and flattening every living and non-living creature in your way. Destroying monsters allows the character to level-up and become more powerful as well as gain new spells. The dungeons are filled with traps, streams, caverns, ledges, and every possible obstacle to cause the player to lose their way in this maze of mazes.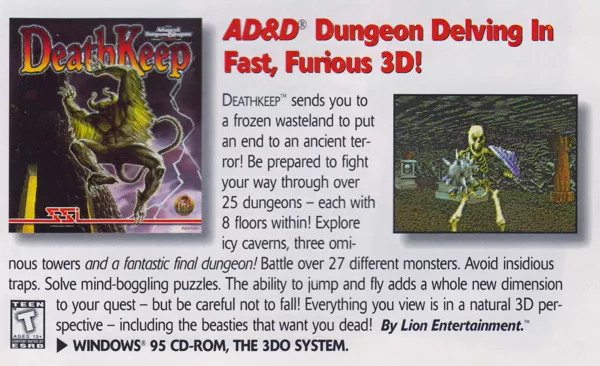 Credits (3DO version)
30 People (27 developers, 3 thanks) · View all
Executive Producer
Produced by
Directed by
Technical Director
Technical Lead
Programming
Artists
Dungeon Design
Cinematics
Musical Score
Voices
Sound Editing
Additional Programming
Director
Producer
Associate Producer
[ full credits ]
Critics
Average score: 50% (based on 20 ratings)
Players
Average score: 3.1 out of 5 (based on 9 ratings with 1 reviews)
It's amazing how nauseous you get after playing hours of hours of FPS games...

The Good
This is probably my first First Person Shooter (FPS) game ever. Although, in this case guns weren't invented yet. Replaced my trigger happy with a finger happy long bow. I can't believe I even played this game for so long, either I was that bored, or I actually dig the game. I hope it's not the later.
Well anyway, it's a medieval FPS. If I'm not mistaken you have to choose your character class in the beginning...something like Thief, Mage...more or less. Anyway, choosing a class means different weapons (I think).
It was interesting to see the 1st-Person version of AD&D spells. There were several new spells if I recall, but they still had the good ol' magic missile. They didn't have many spell levels though, if I remember correctly. Me needs screenshots fix me amnesia. Anyone?

The Bad
Bleeech. I didn't feel this nauseous since I played Doom. I really hate what FPS does to your brains. I remember I had to stop playing a couple of types because my stomach rebelled on me.
I kinda hate FPS games with a vengeance, due to the fact that most (if not all) FPS games has no educational value much less a story line besides kill'em all (as much as I like you Duke Nukem...you have no class!). But then again, Return to Castle Wolfenstein does have something going.
After hours of playing and hours of almost throwing up, I kinda got fed up playing this game. I even reached the boss (I think), but didn't have the stomach to continue.

The Bottom Line
Trust your gut feeling. :)
3DO · by Indra was here (20633) · 2004
Trivia
Cover art
The game box's cover features a painting by artist David Dorman, earlier used as the front cover to David Collins and Skip Williams' 1989 Greyhawk module "Gargoyle".
Macintosh version
SSI's catalog for the second half of 1995 lists a Macintosh version of DeathKeep. That version was never released.
Contribute
Are you familiar with this game? Help document and preserve this entry in video game history!