Your father, the loved Duke of Allada was last night murdered by Orcish hordes and same Orcs have come again to invade your city. Now is the time to avenge your father and keep well the title Duke of Allada. Recruit an army and prepare for the upcoming onslaught! The future and fate of Allada and its role in Aragon now rests in your hands!
Sword of Aragon is a turned-based fantasy strategy game where the player rules a small town called Allada in the North Western part of the land known as Aragon. Most of the political map is yet undiscovered and you have to maintain a strong economy and military force to venture forth. The storyline revolves around duties as the Duke of Allada, exploring the uncharted areas of Aragon and uncovering its mysteries, conquering neighboring cities, as well as the political intrigues surrounding the city-states of Aragon.
In Sword of Aragon, the player may choose one of the five different character classes for the player's leading hero, each with different bonuses to the player's troops and abilities: Warrior, Knight, Ranger, Priest, or Mage. Different selection of character class does not affect the storyline.
Gameplay of Sword of Aragon consists of three major categories: * City and Resource Development and Management
With Allada as the first city the player controls (though later in the game the player may acquire many other cities in the land of Aragon), the first rule of business is developing the town and creating a steady economy. Military development and maintenance costs money and unless those Orcs come again with more friends, you had better maintain a decent military garrison. The only way to get money is to tax the revenues of a controlled city. These revenues come from five different sectors: farming, lumber, mining, commerce, and manufacturing. The stronger the sector, the higher the tax income. The player can do this by investing money to selected sectors which strengthens economy (and city happiness) as well as promoting more people to come to a player controlled city and well as a steady stable birthrate (more people means more taxes).
Besides developing resources, the player can also invest in structures and fortifications. Aragon is fantasy world filled with mystery and monsters, a town without walls is inviting inevitable disaster from marauding enemies. Structures and fortification investment guarantee thick walls and battlements for your troops to defend themselves in the event of an attack. Structures also have an additional use of storing surplus food for those harsh winter days.
The player can also recruit military units and heroes at cities. Military units and heroes may only be recruited providing the player has the money as well as available recruits at the selected city. Recruits increase through time although the player may also conscript citizens, however it will have a negative effect to city happiness.
Military Development and Combat
The player starts the game preparing for combat. Thus, recruiting an army is the first priority in the game. There are different types of military units as wells as heroes to recruit from: infantry, cavalry, bowmen, and mounted bowmen. The more experience troops obtain (either from training or combat) the stronger they become as well as able to equip more various selections of armor and weapons. Heroes can be recruited to up to 20 units (the player's hero included). Heroes, though weak at the beginning of the game, provide backup combat bonuses for your troops (especially warrior, knights, and rangers) as well as devastating offense magic and beneficial support magic (rangers, priests, and mages).
The combat screen generally consists of the combat terrain and military units: The hero and main forces, the opponents' main forces, as well as the allies of either side (when applicable). There is no time limit on combat - it ends when either side is annihilated or withdraws from battle.
Exploring and Random Events
At the start of the game, the player may view Allada and its surroundings, particularly the Northern areas. The southern and eastern maps remain unexplored. Exploring will uncover set and random events which will progress the overall story.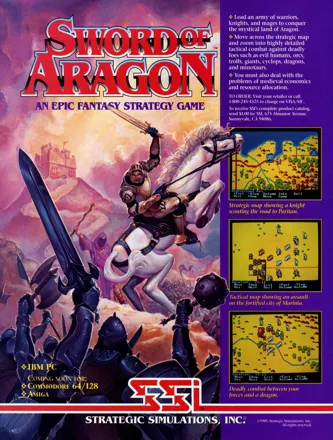 Credits (DOS version)
26 People · View all
Game Design
Programming
Developer
Playtesters
Manual
Art & Graphic Design
Desktop Publishing
[ full credits ]
Critics
Average score: 65% (based on 7 ratings)
Players
Average score: 3.8 out of 5 (based on 18 ratings with 5 reviews)
RL meets War Game meets Lords of the Realm meets Warlords style heroes

The Good
It's classic SSI, if you liked their Gold Box D&D stuff, you would love this variation. The ecclectic mix of genres is done very well, and even with a decent evolving plot that while linear had enough variety in the gameplay to be very engrossing. Current day developers could take note!

The Bad
Its dated now, and the end game does not maintain the pace and interest of the rest of the game.

The Bottom Line
"Sword of Aragon" (from SSI) on the Amiga, was a great turn based variant that mixed RL combat/magic, warlord style Heroes, war game tactical and economic Lords of the Realm style over game.
Amiga · by abc gi (2) · 2004
Replayability for at least 15 years!

The Good
The colorful graphics, the lovely map, army designs, combat interface.. basically EVERYTHING!

The Bad
It should of course have been bigger, perhaps a larger map :) The option to somehow make it a 2-player game would have been great as well.

The Bottom Line
This game was the sole reason why I bought my Amiga 500 and jumped ship from the C-64. I loved it back then, I loved it 5 years ago and I love it oh so much still. One of my most played games, and along with War of the Lance and Storm Across Europe, it is one of the first games I install on a new computer. I play it from start to finish in about once every 2 months. I do recommend the amiga version of it, alot better graphics.. and even a little sound here and there :)
Amiga · by Stefan Lindblom (1) · 2005
Don't call yourself a strategy gamer if you've never played this game!

The Good
They made this with Microsoft Quickbasic? (see screenshots). Pure genius. Where to start...
Sword of Aragon is a turned based strategy with a lot of elements that made it an excellent strategy game with is quite amazing considering the technology they used to make this. I'll explore these elements in detail.
The plot is you are the successor to the former Duke of Allada, your father - who was brutally murdered by wandering orcs who had a little too much to drink at the local pub...just kidding. Anyway, the locals question your capabilities but it seems you have a chance to prove yourself as the same army of orcs are attacking again soon...spesifically when you press next turn. :p
The main interface is a huge map...huge by those standards...where you can barely only see the surroundings of your city and other neighbours. The rest is covered with a red fog of war which can be opened when your units move near it. There are only 2 aspects of the game really: The first being City (and unit) development. The second being combat.
When the game starts you have to start making some troops to prepare for the defence of Allada, as well as hire some heroes to aid your cause...for a price. The next turn you enter combat mode. You place your troops in the city and entrench them (fortify) and wait for the drunken hordes to knock on your gate and get slaughtered (them not you). Thankfully this game is easy enough to comprehend so everything should be understood quickly enough.
O.k. the detailed elements: City and Troop development. When enter the city screen (each city has one) you have the option to develop that city. Developing consists of economic and non-economic development. Economic development consists of developing Farming, Logging, Mining, Manufacturing and Commerce. Non-economic development consists of developing Structure (to store food I think...not quite sure) and Fortifications to strengthen walls, does wonders when under siege.
Developing means using some gold in order to increase development. The level of development is indicated by numbers...the higher the better. Sometimes you can only reach a certain number...further investment would prove futile.
In the city screen you can also recruit heroes. There are 5 character units to choose from...which is what you do the first time around is choose a class for yourself: A Warrior, A Knight, A Ranger, A Priest and A Mage.
Troops and heroes can be equipped with all sorts of different weapons and armor, but its a obvious linear choice. Higher level units may use better weapons. The types of units available are Infantry, Bowmen, Mounted Infantry, Cavalry and Mounted Bowmen.
The funny thing about this game is that is has a scoring system similiar to adventure games of its time. This may be the first strategy game to use this approach, anyway if you've done a good thing, you get points. The maximum amount of points to be obtained is 500 points although I don't recall ever reaching that number.
Overall it's a very addictive game the first time around. You'd probably have to replay it several times just to get the feel and findout more about the hidden quests.


The Bad
It would be blasphemy to gamers to bad talk this game...hahaha
Sword of Aragon has a lot of minor irritations I could live without. The economy has a limit it seems (and those elves don't help either), can't get past certain levels, which does get kinda irritating in the long run. It's very irritating that those levels can even decrease and they don't say anything about it. Today it's it 10 tommorow it's 8...an indication of a minus or plus each turn would be nice...
I hate to admit but there is a "timing" limit in playing Sword of Aragon. But this timing only relates to quests but can hamper you game play somewhat. If you don't invade or explore a certain area in a certain amount of time (like soon), you may lose a shot on some plot events.

The Bottom Line
First love? A lotta good memories this one...an A+++ strategy game all the way.
*Second Update - More detailed, last one was crappy (not that this one isn't either) Last update: December 30, 2003.
DOS · by Indra was here (20635) · 2003
Trivia
Lucedia, one of the cities in Sword of Aragon is also known in the Bard's Tale series.
Contribute
Are you familiar with this game? Help document and preserve this entry in video game history!
Contributors to this Entry
Game added by Rebound Boy.
Windows added by Plok.
Additional contributors: Indra was here.
Game added April 18th, 2001. Last modified August 21st, 2023.