Walt Disney World Quest: Magical Racing Tour
aka: Disney Kolorowy Rajd
Moby ID: 3857
A cart racing game featuring Disney Characters Starring Jiminy Cricket, Chip, and Dale, and a few characters created specifically for the game. The catch is that all of the tracks are actually based on rides at all of the four Walt Disney World Parks (Haunted Mansion, Splash Mountain, Space Mountain, Rock'n'Rollercoaster, Typhoon Lagoon, etc...).
Spellings
Гонки в Диснейленде - Russian spelling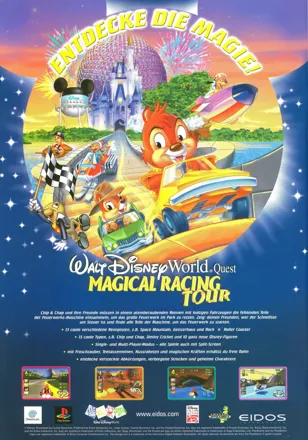 Credits (PlayStation version)
79 People (72 developers, 7 thanks) · View all
"The Cleaner"
Crystal Dynamics Director
Crystal Dynamics Producer
Crystal Dynamics Lead Programming
Crystal Dynamics Lead Design
Crystal Dynamics Programming
Crystal Dynamics Artists
Crystal Dynamics Animators
Crystal Dynamics Senior Designer
Crystal Dynamics Audio/Visual Lead
Crystal Dynamics Audio Programming
Crystal Dynamics Additional Design
Crystal Dynamics Additional Artwork
[ full credits ]
Critics
Average score: 68% (based on 20 ratings)
Players
Average score: 3.1 out of 5 (based on 29 ratings with 1 reviews)
Solid Racing Game Mixed With Lame Characters.

The Good
There is a lot to like about this game if you're a fan of the Disney Theme Parks. Each track is a faithful adaption of the classic rides that make up the four theme parks in Disney World, complete with music, sound effects, and voice-overs. Players who simply take the time to explore the tracks can find almost all of the familiar landmarks from each ride accurately represented with the familiar animations and one-liners.
The track designs are a lot of fun for a kart racer. While not Mario Kart, the levels offer a lot of diversity in the design and scenery, complete with multiple shortcuts, and power-ups to trip up the other racers. There are a lot of impressive special effects throughout the game, and the backgrounds are busy. Most importantly, the control is tight and responsive. Even with a steering wheel.
The multi-player is solid as well, with a smooth frame rate, even in four-player. This is a fun multi-player game.

The Bad
I have never seen a Disney game that employs a lamer storyline or character selection choices.
The story is utterly illogical. Chip and Dale spill acorns into the Disney World fireworks machine (do they really have one?), and the parts fly all over the park (those who have been to the Orlando park knows that the blast radius would have to be pretty impressive to accomplish such a feat). So the two chipmunks decide to stage kart races around the resort to win the pieces back. Again, this story defies logic, so don't try to understand this.
The other most glaring flaw is that, with the exception of Chip, Dale and Jiminy Cricket, the new characters created exclusively for this game are incredibly lame. Why they didn't use the hosts and mascots from the different rides is beyond me, as it would have been a much more understandable choice. Why they didn't use ANY familiar Disney characters is beyond me.
And finally, for the Dreamcast version, the music and sound effects are incredibly muted. This can be adjusted properly in the "Options" menu, but the fact that the audio, one of the more impressive aspects of this game, is so muted.... Well, it goes up there with the storyline and character choices.

The Bottom Line
Despite the heinously lame character choices and ridiculous story, don't be fooled into thinking this is a bad game by any means. It's a very competent Mario Kart clone with great tracks and audio. In single player, there are a lot of hidden items to find. In multi-player, the races are fast and addicting. In any mode, the game is fun.
This is easily recommended to anyone who is a fan of the theme parks, and who enjoy the heated competition of a good kart racer.
Dreamcast · by Guy Chapman (1746) · 2004
Trivia
In the game, Chip and Dale are wearing their outfits from their Disney Afternoon television show "Chip 'N' Dale Rescue Rangers", which was also a NES game from Capcom in the early 1990's.
Contribute
Are you familiar with this game? Help document and preserve this entry in video game history!