Valkyrie Profile
Moby ID: 3860
In preparation for Ragnarok, the final battle between the gods, Odin has commanded Lenneth the Valkyrie to descend to the lower world and gather the souls of fallen heroes to serve as soldiers in the approaching conflict. The player controls Lenneth, gathering soldiers and training them to be transferred to the battlefields of the gods.
The gameplay mainly consists of exploring various locations (dungeons, mansions, swamps) from a 2D perspective. Lenneth can run, jump, shoot ice crystals (useful for anything from freezing enemies to building ledges), push and pull objects to solve simple puzzles, etc. All of the enemies are on-screen and can usually be avoided, in the style of games like Chrono Cross and SaGaFrontier 2. The battle system is turn-based. Each of the characters (up to three can fight alongside Lenneth at a time) is assigned to one of the four main keys. The player and the enemy take turns attacking, but with the right timing, the player can execute combos that leave enemies defenseless. Long combos can result in substantial experience bonuses, although it is possible to defeat most enemies without them.
The rest of the game consists of Lenneth using "spiritual concentration" to discover the locations of dungeons and fallen heroes, ingame-engine cutscenes that give the history of these characters, and reports about the war's progress that come at the end of each "chapter". The chapter system is one of the game's most original features. Each chapter (there are about 8) is made up of a preset number of periods. Each action, such as a successful use of spiritual concentration, or entering a town/dungeon, uses a number of periods that varies with the difficulty level. When all of the periods have passed, the chapter is over. The player must transfer heroes to Valhalla in the course of each chapter (permanently losing them), but has only a limited amount of time to improve their statistics.
Spellings
ヴァルキリープロファイル - Japanese spelling
女神侧身像 - Simplified Chinese spelling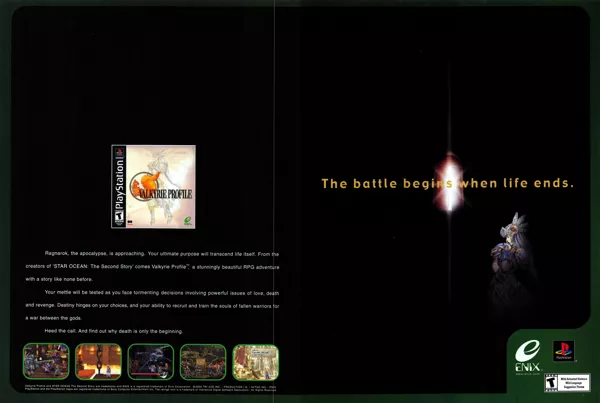 Credits (PlayStation version)
164 People · View all
Critics
Average score: 87% (based on 19 ratings)
Players
Average score: 3.8 out of 5 (based on 33 ratings with 0 reviews)
Be the first to review this game!
Contribute
Are you familiar with this game? Help document and preserve this entry in video game history!