NFL 2K is the first of Sega's NFL franchise to hit the Dreamcast system. It is also the first football game of the "128-bit" generation, making it the game that most future football games get compared to. NFL 2K features VMU play calling, accurate stadium models, and a play editor.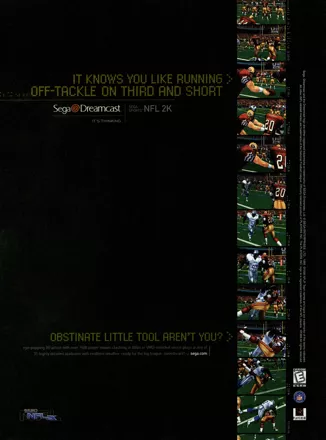 Credits (Dreamcast version)
182 People (132 developers, 50 thanks) · View all
Lead Engineer
Lead AI Engineer
Lead Library Engineer
Audio Director
Lead Tools Engineer
Engineers
Art Director
Artists
Sound Designer
Tools Engineers
[ full credits ]
Critics
Average score: 92% (based on 12 ratings)
Players
Average score: 3.8 out of 5 (based on 17 ratings with 1 reviews)
The standard that all console football games should strive to achieve

The Good
Complete rosters for each NFL team with statistics. Playbook varies from team to team, so you can really utilize a team's strongpoints on offense. I found that defense was not as deeply varied as offense, but certain defenses offered better blitzes than other teams.
This is one of my favorite games to sit down and play with a friend. There is a very small learning curve, so you can get pretty good pretty quickly. Some may find this to be a negative if you are playing against the computer. But it isn't a lot of fun when you have a friend playing who takes so long to figure out the game that they lost 97-6. It's also no fun if you are playing really weak so they keep up. Even my friends who don't play console games are pretty quick to pick this one up - usually after one possession. So you can have some pretty good games with your non-gaming spouse, family members, friends, etc.
Unlike some other football games based on actual rosters, I find that you can begin to win with some of the poorer teams. In some of the older computer-based EA football games, a team with a losing record in real life was difficult to ever win a Super Bowl with. I'm a die-hard fan of a particular NFL team, and I could never imagine playing with a different team. In the past, that usually meant get used to losing or at best, just squeaking by. It is great to be able to take your team to the Super Bowl in this game after it was modeled after the team during a losing season.

The Bad
What's not to like? Perhaps I could do without Randy Moss on the cover. Grrrr.... Announcers are somewhat repetitive, but not nearly as annoying in the later incarnations of this series (NFL 2k1 and 2k2). If you are playing a full season, make sure you have an entire VMU to dedicate to saving. There are a ton of stats that are saved, which I love about the game, but it makes playing other games difficult if you don't have a ton of VMUs hanging around.

The Bottom Line
The best football game hands down - console or otherwise. I have played many before and many since, but I keep coming back to this one.
Dreamcast · by hellkitty (12) · 2003
Contribute
Are you familiar with this game? Help document and preserve this entry in video game history!
Contributors to this Entry
Game added by Rogee.
Game added April 20th, 2001. Last modified February 27th, 2023.