Dust: A Tale of the Wired West
(prices updated 9/22 8:06 AM )
Dust is set in a New Mexico town in the 1880s. You play a mysterious (unnamed) stranger. After crossing a dangerous outlaw called The Kid you explore the desert town of Diamondback. You must deal with a displaced Indian tribe, bounty hunters, lost treasure, murder, and a confidence scheme. And that's just the beginning.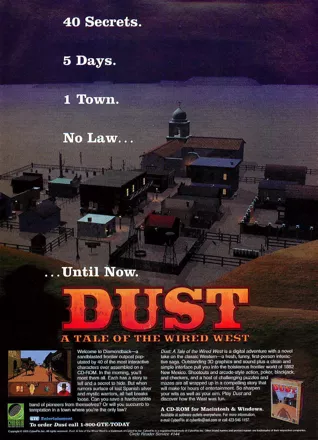 Critics
Average score: 68% (based on 17 ratings)
Players
Average score: 3.8 out of 5 (based on 12 ratings with 1 reviews)
Homage and Camp in the Wired West is a Good Combination

The Good
"Dust" is built on the foundation of great atmosphere; you the player feels like a person in a Western Movie. The music is very good and the writing, while a bit campy at times, is passable. The visuals are split down the middle with interesting settings in the fore and background, but the character models are inadequate. The game thrives on nostalgia and because is embraces and pays homage to so many classic "Western" themes, the good, in the end, will be remembered before the bad.

The Bad
The technical limitations of mid-90's computer gaming is evident here. The 3-D character field models are atrocious and the character busts while in conversations, called by the game designers "puppets", can be unsettling. The music is excellent but sparse. And the puzzles, at times, can be quite illogical.

The Bottom Line
The "Western" Genre had a brief period of resurrection in the mid-1990's with the release of several films like "Tombstone" and "The Quick and the Dead". The Video Game Industry attempted to cash in on this rebirth with several titles: "Outlaws" by LucasArts, "Mad Dog McCree" by American Laser Games, and "Dust: A Tale of the Wired West" by Cyberflix are just a few.
"Dust" is a hybrid game that combines an odd first person engine with "Myst-like" logical puzzle solving. With great atmosphere, good music, and an enjoyable story, the result is a wholly enjoyable experience. The learning curve is very low which permits just about anybody to play it and the story content is friendly to kids and adults, (there are just a few sexual-in-jokes).
Windows 3.x · by D P (129) · 2023
Trivia
Covermount release
The French game magazine PC Player included the full version of the game in the 37th edition.
Awards
MacWorld

1995 - Best Multimedia Game
Information also contributed by Agent 5
Contribute
Are you familiar with this game? Help document and preserve this entry in video game history!