Description
The game represents Ski-Doo, a 6-month length trek set in the snowy woods of North Eastern Canada. Riding snow scooters, participants try to survive in this white desert, hunting for the wild animals and finding warm places following the routes to the cities. Visiting 25 cities along the way, 10 contestants take part in a wild race on ice-circuit to win money. You are one such participant, and you should survive and come to the finish of the overall trek in the first place.
This single-player game is shown in a 3rd-person view, while you are controlling your driver, riding a snow scooter, to accelerate/decelerate and turn left/right. As time goes, night will fall after the day and so on. At the same time food and heat levels will decrease, so you should always need to raise them up. The view will be switched to 1-st person, while you are hunting for animals to increase food level.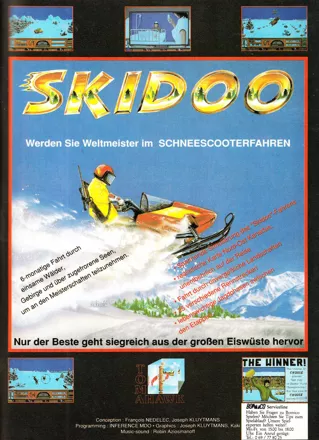 Credits (Atari ST version)
5 People
Critics
Average score: 60% (based on 3 ratings)
Players
Average score: 3.0 out of 5 (based on 3 ratings with 0 reviews)
Be the first to review this game!
Contribute
Are you familiar with this game? Help document and preserve this entry in video game history!