Crush, Crumble and Chomp!
aka: Crique, Craque, Crocue, Crush, Crumble & Chomp!, Crush, Crumble and Chomp, Crush, Crumble and Chomp! The Movie Monster Game, Crush, Crumble and Chomp!: The Movie Monster Game
Moby ID: 4208
Crush, Crumble & Chomp let you assume the role of a movie-style monster, becoming one of any number of giant crawling, swimming, or flying beasts. Technically CC&C is a strategy game; you have to keep an eye on several statistics, including your health, appetite, and even such minute details as the tilt of your head (helps in aiming breath weapons). Destroy the city before the human military destroys you!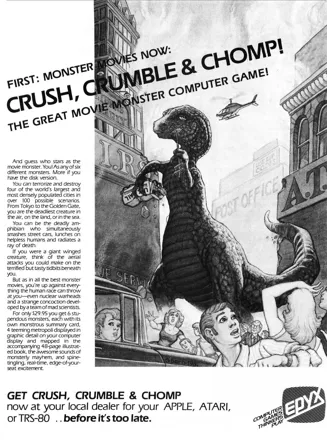 Credits (Apple II version)
21 People
| | |
| --- | --- |
| Game Design | |
| Programs | |
| Apple Version by | |
| Apple Graphics by | |
| Manual of Monsterhood | |
| Artwork | |
| Playtesting | |
| Layout | Two Hands Advertising [Fremont, CA] |
| Typesetting | Reeder Type [Fremont, CA] |
| Printing | W. H. Barth, Inc. [Sunnyvale, CA] |
Critics
Average score: 70% (based on 6 ratings)
Players
Average score: 2.8 out of 5 (based on 14 ratings with 2 reviews)
had loads of fun with this one oh so many years ago

The Good
Fancy multi-color graphics. Sound from the built in speaker. A whole city at your mercy!

The Bad
Who knows how many kids went out and crushed, crumbled, & chomped their way through the city after being brainwashed by this ultra-violent tool of Satan.

The Bottom Line
In retrospect, it took so little to impress so much in those days. I remember first seeing this on my rich friends Apple. What a hoot! It was hilarius to direct your monster through the city dealing out destruction. It had a sim-city like feel. In fact, those Sim City guys should make one of there goofy add-ons like Sim-Copter or Streets of Sim -- Sim-Monster.
DOS · by Mr. E (3) · 2003
One of the earliest examples of a monster-themed game

The Good
When I had my old C-64, one game I played quite a lot was Rampage, a game where you have to destroy as many cities as you can without getting killed by the authorities, as well as eat humans to replenish health. It wasn't the first game to have such an objective like this. Epyx, a company that focused on "games for the thinking man" did the same exact thing four years earlier with Crush, Crumble and Chomp!. In fact, CC&C is slightly better than its cousin.
At the start of the game, not only can you select one of six monsters or create your own, but you can choose what scenario you want to play and the city you want to conquer. The game telling you what objects and enemies you encounter in the game, as well as the way this info screen appears, is a nice touch.
Gameplay-wise, you control your monster entirely through the keyboard, and you have to memorize what each key does, with some of them only applying to certain monsters. The graphics are very good. When you destroy a building or home, the rubble you see lets you know that you did enough damage to it. From time to time, your monster will enter Berzerk mode which means that it does its own thing and you have no control over it. This is a neat way to deal with the authorities because that way you don't have to struggle getting to where they are to deal with them.
There is no background music during the game, but I don't think this is needed. Epyx did their best in imitating the crushing and stomping sounds of the many monster movies out there, even it means that it would be a bit scratchy on the C-64. I don't know the name of the music you hear on the title screen, but you also hear it during the game, and it serves as a warning that you are on your last legs.

The Bad
Because the game lacks joystick support, I found controlling my monster with the keys a bit tiresome.

The Bottom Line
CC&C is one of Epyx's earlier games and it is a precursor to the many monster games you can get. The object is to wreak havoc in one of the cities you selected at the start of the game. The game is more involved, in that there are many keyboard commands you have to learn off by heart, otherwise the game won't be as enjoyable if you just walk up to a building and smash it rather than do something else with it. The game is a time waster, in that you are seeing how long you can survive without getting killed by the authorities (as far as I'm concerned, at least). The game sports average sound and graphics, and a few nice touches. In conclusion, anyone who likes games with monsters in them should find this one exciting to play.
Commodore 64 · by Katakis | カタキス (43051) · 2012
Related Sites +
Crush, Crumble and Chomp
Shows the development of the game from the 1981 original on the TRS-80 through the 1983 version on the Commodore 64. Screenshots from multiple platforms are placed together for comparison. Click on [Games Rated D] and then on [Crush, Crumble and Chomp].
Contribute
Are you familiar with this game? Help document and preserve this entry in video game history!